Caricom Cement Company Incorporated commissioned its newly constructed Cement Manufacturing Plant at Everton, Berbice on Saturday and it promised low prices.
Owner of the Plant, Dr. Joshua Safeek told the gathering that they should put their construction plans on pause as he promises that the cement coming out of his plant will be close to $1000 per sack in January 2015 since it will be made here with some local inputs.
As it relates to the cost of constructing the plant, Safeek was unable to say since according to him, evaluations are still ongoing. He assured Stabroek News that as soon as he obtains the tabulations he will make an announcement.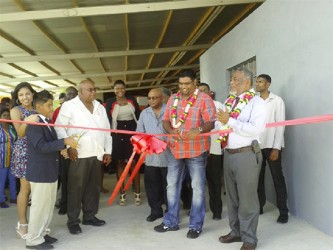 Safeek said that construction of the plant was divided into three phases. Construction began in August 2010 with the Bagging Plant which has since been bagging cement under the brand names West Indies Cement and Titan Cement. The second phase, the Grinding and Mixing Facility and the third phase, the Clinker and Meal Plant that entails a kiln and new grinding facility were recently completed.
He also pointed out that the plant was constructed by individuals from the Government Technical Institute and other institutions here and was spearheaded by Chief Contrac-tor, Alex Haywood. He boasted that it was the first of its kind in Guyana and the third in the Caricom Community. The plant is geared to produce some 500,000 metric tons per year which he said will far exceed the demand for Guyana and at the same time, provide jobs for approximately 100 locals.
Also present at the ceremony were the Prime Minister, Samuel Hinds, Minister of Tourism, Industry and Commerce, Irfaan Ali and Regional Chairman David Armogan.
Hinds in his opening remarks said that to keep the company going won't be a "piece of cake" especially in terms of quality control. He also stressed the importance of the cement industry in Guyana while saying it was a "bold move". In his closing he congratulated the Company and later, unveiled the plaque as Minister Ali took part in the traditional cutting of the ribbon.
The Caricom Cement Company Inc. has been in operation for the past four years and during that period it has been bagging cement under the brand names West Indies Cement and Titan Cement.
Around the Web