The family of Linden McAlmon, the businessman who was murdered at his Mango Landing shop last Monday, is disappointed with the police investigation and believes that there is more to his death than robbery.
A post-mortem examination found that McAlmon died due to multiple gunshot wounds, which caused injuries to his heart, lungs and liver.
McAlmon, 51, of Lot 72 Rabindra Street, Annandale, East Coast Demerara, was killed in the early hours of December 8 after armed bandits invaded his Mango Landing shop and reportedly robbed him and his wife of about $500,000 in cash and jewellery. Maureen McAlmon had related that she was separately accosted by the bandits and afterward found her husband motionless in a sitting position and in a pool of blood, after the men had fled.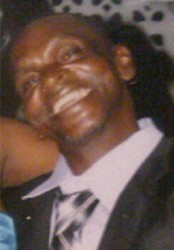 Although Mahdia ranks were said to have taken statements from Maureen and the other person in the shop and also arrested one person, the dead man's niece, Rondai, speaking on behalf of her family, vented her disappointment with the investigation of her uncle's murder.
Rondai told Stabroek News that the police at Mahdia have since stopped looking into the matter. Furthermore, the woman said that the family is suspicious of the inconsistencies in the accounts of the attack that have been given.
She said that Maureen told the family that she was held at gunpoint by the bandits and stripped of jewellery, while a source informed her that the woman was told by the bandits to go into a room and to stay there until they left.
"I am not going to let sleeping dogs lie," Rondai said, while adding that she will be visiting the Crime Chief Leslie James on Monday to complain about the inaction by the Mahdia police.
Around the Web