By Sharda Bacchus
The mantra 'never give up' epitomizes 42-year-old Sharon Scott, a former high school drop-out, who was this year's valedictorian of the Critchlow Labour College at the recently held 39th graduation ceremony.
Scott started studying again 27 years after she dropped out of the North Georgetown Secondary School because she became pregnant after completing fourth form at the tender age of 15. She did not give up on her dreams, though she defined her life as one filled with challenges. But she credits her children for the strides she has since taken.
Looking back, Scott recalled that after she dropped out and while waiting to deliver her first child, "I did a few training programmes but short ones because I wanted to be active.
"Before I knew it I was married at age 21 with another baby on the way. Then baby number three quickly came," said Scott.
It was at this stage in her life that she came to a decision that she wanted to continue from where she had left off because she knew she could be much more than she was. She continued, "I was basically a full-time mother and I thought what I didn't accomplish, I will ensure my children do so I pressured them into studying hard."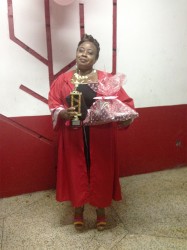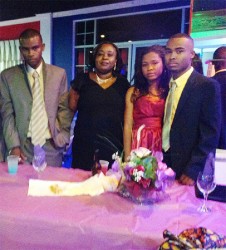 Scott finally enrolled at the Critchlow Labour College last year pursuing the programme of Industrial and Social Studies (ISS) which involves a bit of every subject area, some of which she never knew of before. "It was quite a challenge to go back after 27 years and study, especially Mathematics," she said. "But I was determined and with the help and support of my three loving children I was successful."
During her year at Critchlow, Scott said, she accomplished a lot especially a very high self-esteem. "I accomplished self-esteem when I realized things I was thinking to myself are actually tough, I could really study and make it," Scott said. She added that she had questioned whether "I would make it to go back and study and accomplish my goals."
There were financial challenges, since two of her children are in medical school. "…Since I had a full time job. I was always late for class. I always took notes from my classmates and I would re-read and go through with my children when I had the time."
Scott added that she was not prepared for the level of work Critchlow was offering when she started. "I thought it would have been a walkover, but I realized Critchlow was offering more than I expected…. I took it for granted; thought it would have been an introductory level programme," Scott said.
"I started back studying as a challenge… I wanted to be the person I knew I am and I wanted to correct the mistakes I made at school," she said.
Counting herself as extra blessed, Scott said her children encouraged her. "I took the encouragement and I trusted God which resulted in great grades. I was also very determined," she added.
Next on her agenda is pursuing Public Management at the University of Guyana. "I know by the time I am finished I may be around the age of 47 or so, but it doesn't matter because it will be a goal accomplished," Scott said.
"Sometimes I see a certain type of management existing in workplaces that ought not to be there. I want to go into this field in order to make a change. I want to be that change in the workplace where I can set an example and lead and by my leadership I expect others to follow, not to do as I say but to rather do as I do," she said.
Scott attends the Heavenly Light Full Gospel Church. She also likes to volunteer and help people who are not so fortunate and would find themselves in a position she did. "I think I would be a great example to school drop-outs in society today [who] … feel there is no place left for them to elevate themselves and to pick up the pieces and move forward," Scott continued.
She will always be grateful to Critchlow Labour College for her second chance. She said she is also grateful to her children, friends and God who supported her throughout her journey because without them she would not have made it.
"I want to say to those out there who have given up to just come out and challenge yourself that you can make it and you will," she said.
Scott is currently employed as a clerk at the Guyana Elections Commission.

Around the Web