The school at which teacher Nyozi Goodman last taught has expressed condolences to her relatives following the confirmation by way of DNA test results that her skeletal remains was found in a clump of bushes at Turkeyen, East Coast Demerara three weeks after she went missing.
St Stanislaus College, in a press statement, extended its heartfelt condolences to the sorrowing relatives and friends of Goodman who was a former graduate senior mistress of the school, on behalf of the board of governors, administration and teaching staff and students.
According to the release, Chairman of the St Stanislaus College's board of governors Chris Fernandes, in acknowledging Goodman's efforts, alluded to her distinct contribution to the social studies department up to the time of her disappearance. He confirmed that Goodman's efforts helped to retain a 100 percent pass-rate in Geography this year.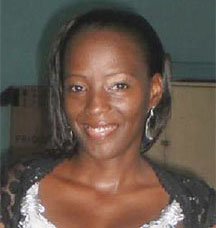 The release added that Goodman, who served at Saints for many years would be "sorely missed for her winsome smile and devoted contribution to our students' own societal development."
Meanwhile, Minister of Education Priya Manickchand, during a press conference on Friday, advised women to end relationships which show signs of violence, before it escalates. "Violent relationships can easily end up in harm and grave injury," Manickchand said.
Goodman, 36, of William Street, Kitty, went missing on July 3, after she left a basketball game at the Cliff Anderson Sports Hall. A missing person's report was filed with the police on July 6.
On July 24, skeletal remains of what appeared to be a woman's body was discovered at Turkeyen.
Five days earlier, on July 19, what was believed to be her handbag and umbrella were found in a pile of garbage in the Botanical Gardens.
The prime suspect in connection with Goodman's murder was killed during an exchange of fire with the police on November 14.
Around the Web