Alastair Woolford, the soldier who was charged with attempted murder after allegedly shooting a friend by accident, was arraigned in court yesterday on a murder charge.
Woolford, 20, of 100 Garnett Street, Newtown, Kitty, was not required to plead to the indictable charge which stated that he killed Devon Howell.
Howell, who had been shot on November 21 at 100 Republic and D'Andrade streets, Newtown, Georgetown, succumbed at the Georgetown Public Hospital (GPH) last week Monday.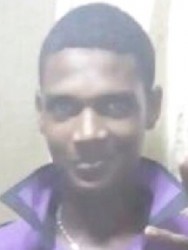 At yesterday's hearing, Woolford was represented by attorney Hewley Griffith in association with Compton Richardson.
Prosecutor Deniro Jones reported on Howell's demise and told the court that a post-mortem examination performed on the deceased concluded that he died as a result of the gunshot.
Magistrate Ann McLennan, who presided over the matter, remanded Woolford until January 5, 2015, when he will appear before Magistrate Judy Latchman, in the Georgetown Magistrates' Court Three.
It had been reported that Howell and four other young men were reportedly taking turns in "feeling the gun" when the weapon went off and he was shot in his neck. The bullet exited on the other side.
It was unclear who the owner of the gun was.
Howell, 20, of 87 DaSilva Street, Newtown, had been admitted in a critical condition to the public hospital shortly after and up to the time of his death he had been in the intensive care unit. Howell's upper spinal cord was reportedly damaged as a result of the shot and he never regained consciousness.
Around the Web