Armed robbery accused Joel Prescott might be home for the holidays if he is able to post $200,000 bail that was set after he denied the crime.
Prescott, 27, was charged with robbing Govinda Narine of his cellphone and jewellery, carrying a total value of $235,000, on November 28, in Georgetown, while being in the company of others and armed with a knife.
The unrepresented man told Magistrate Ann Mc Lennan on Monday that he was not guilty.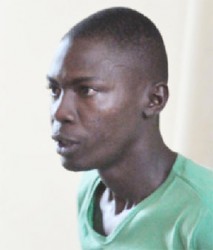 Prescott, a minibus conductor who gave his address as 27 Stanleytown, West Bank Demerara, said that he was innocent of the charge as he and Narine were dining when the robbers attacked them.
"Me is not the guy who rob he. Is some other guys. Me and he was eating when the guys come in and rob him; them search me too but I didn't had anything on me," Prescott said as he pleaded for bail.
He also told the magistrate that he is a "Brother" who goes to church and does not do bad things. He said too that he is ill. "I have malaria in my blood and supposed to go to clinic today. I wouldn't live in jail my worship, I have three complaints I suffering with," he told the court.
After the magistrate questioned Prescott's story and asked him for the name of the pastor of the church and denomination to which the church was affiliated, he mumbled and could not give definite answers. He eventually identified the church as "Voice of the Archangels Assembly," which he said he regularly attends with his mother and nieces.
Prosecutor Deniro Jones, although not objecting to bail, noted that Prescott, who is known to Narine, acted in concert with the robbers. Prescott spoke with the men and stayed back with them after Narine fled after he was robbed, Jones stated.
He also noted that the he gave his address to the police as Ann Catherina, West Coast Demerara, while he told the court that he lives in Stanleytown.
The magistrate subsequently set Prescott's bail at $200,000 bail and his matter was adjourned until January 7, 2015, when it will be called at Georgetown Magistrates' Court Five.
Around the Web