Two Brazilian companies are competing for the multi-million US dollar contract for the rehabilitation and expansion of the Sheriff Street/Mandela Avenue roadway.
The bids were yesterday opened at the National Procurement and Tender Administration Board (NPTAB) in Georgetown.
The project is aimed at creating a less congested link between the East Coast and East Bank Highways via the Sheriff Street/Mandela Avenue corridor. This initiative has been undertaken as part of the government's Sustainable Urban Transport Plan aimed at providing a "holistic approach to improving traffic circulation within the city," and focusing on the way public transport operators provide this service.
The initial plan was to make both Sheriff Street and Mandela Avenue four-lane corridors.
But after concerns were raised by the business community along Sheriff Street, plans to add two additional lanes to this corridor were dropped.
So, only Mandela Avenue will be made a four-lane corridor.
Other plans for the transformation of the corridors include the installation of sidewalks on both sides of Sheriff Streets. These are to ensure the safety of the pedestrians who traverse the busy area.
Last month, bids were received for supervisory services for the road network upgrade and extension aspect of the project.
The names of the two companies that submitted bids yesterday and the Engineer's Estimate are shown in the table below.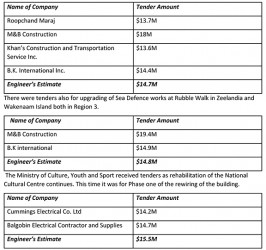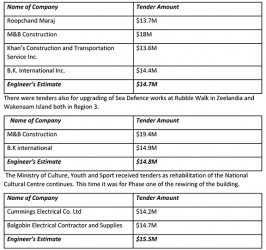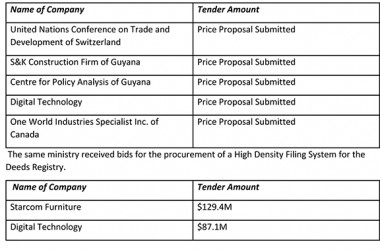 Around the Web