The family of Chris Jacob, the employee whose body was found in the Cheddi Jagan International airport's water reservoir, is concerned about the investigation as no charge has been made after three weeks.
Stabroek News learnt that the police file was received by the Chambers of the Director of Public Prosecution (DPP) only late yesterday afternoon.
Chris Andrew Jacob, 26, a maintenance engineer of the airport and who lived in nearby Hauraruni, along the Linden-Soesdyke Highway, was found drowned in a water reservoir at the airport on November 23, after being involved in a reported assault and a resulting altercation sometime after 11pm on the night in question.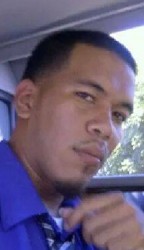 The dead man's father, Jagat Jacob, told Stabroek News that he has spoken with Crime Chief Leslie James and 'A' Division Commander Clifton Hicken, amongst other officials, about his concerns and to be updated as to where the investigation into his son's death is heading. The concerned father is hoping that a prompt and thorough investigation will be done by the police and will result in justice being served for his only son.
He had earlier mentioned that a suspect was in police custody but he was released and may have been ruled out as a suspect.
Jacob said that his family has since visited the airport and toured the area where his son met his demise.
He also told Stabroek News that he wanted to clarify misconceptions which were published in some sections of the media and he disputed claims that the matter which led to the man's demise stemmed from him interfering with a young lady and behaving unruly. He stated that his son's friends have also testified to Chris' character as he questioned the source of the misconceptions.
Although a post-mortem examination performed on the remains of Jacob had revealed that he died as a result of drowning, a visible wound was seen at the back of his head, his father said.
Around the Web