Johnny Ventura Gomez Rivas, the Venezuelan soldier held over the shooting of a countryman and having an unlicensed gun and ammunition in the Cuyuni area, was on Monday further remanded to prison after the court found no special reason for bail to be granted.
Rivas made his first appearance at the Georgetown Magistrates' Courts on December 9 facing the two separate charges.
It is alleged that on December 5, at Eteringbang Landing, Cuyuni, he discharged a loaded firearm at Johangalo Joveira with intent to maim, disfigure, disable or cause grievous bodily harm. The second charge against him is that on the same day, Rivas had a Taurus 9 mm pistol and nine matching rounds without licences.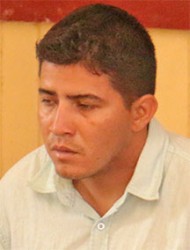 Rivas has pleaded not guilty, through an interpreter, to both charges.
When the matter was called for the third time on Monday, Rivas was again denied bail and the matter was transferred to the Kamarang Magistrate's Court for March 23, 2015.
Around the Web