All leads are being pursued in connection with the murder of Mango Landing shopkeeper Linden McAlmon, Crime Chief Leslie James has said.
McAlmon, 51, of Lot 72 Rabindra Street, Annandale, East Coast Demerara, was fatally shot during what is suspected to be a robbery at his Mango Landing shop on December 8. In response to concerns expressed by the man's relatives that the Mahdia Police had abandoned the case, James told Stabroek News that the murder/robbery is still under investigation. He said the persons who had been arrested in connection with the attack were released from police custody.
McAlmon's niece, Rondai McAlmon, had also said that "inconsistent accounts" of the attack were given by McAlmon's wife. The niece and two of the man's children had visited the Crime Chief and made known their concerns regarding the investigation.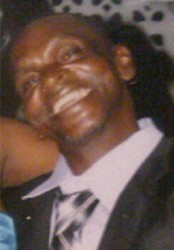 It was reported that in the early hours of December 8, armed bandits had invaded the man's Mango Landing shop, killing him and robbing the other occupants of cash and jewellery estimated at $500,000.
Maureen McAlmon had related that she later found her husband motionless in a sitting position and in a pool of blood, after the bandits had made good their escape.
Around the Web