Nine-year-old Javier Anderson who was diagnosed with Osteo-sarcoma, an aggressive bone cancer found predominantly in children is currently hospitalized at     the Georgetown Public Hospital after his condition worsened.
When Stabroek News visited the hospital yesterday, Anderson sat on the hospital bed receiving oxygen while asking his mother for pizza.
Lizanna Anderson, the mother of the nine-year-old cancer survivor told this newspaper that after her son was diagnosed with cancer he had surgery where his left leg was amputated. However, the cancer has since spread to his lungs.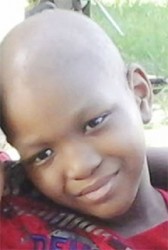 "He is only breathing from his right lung right now because the left is not functioning. The cancer is now to his right lung also that is why he need the oxygen", said Lizanna.
Javier is experiencing a very high fever and if the oxygen is taken off right now he would gasp for breath. "If I take it off to go bathe him he would gasp for breath so I would have to hurry hurry and bring him back to his bed where he would receive the oxygen", Lizanna said.
The mother who spends all her time beside Javier since he was hospitalized said that she thinks that he needs her so she refuses to leave his side.
Lizanna said that while her son is hospitalized he is eating normally and is in high spirits most of the time. She however, said in a soft tone of distress that he has since lost a lot of weight.
Javier's leg was amputated on Good Friday this year and when he was interviewed by Stabroek News in May, the little swimmer and cricketer's only wish for his birthday, which was in July was for someone to give him a prosthetic leg so he could be active again. Following the publication of the news item, many persons came forward to offer support to Javier.
Javier came to notice when he topped this year's Courts Essay Competition on why his mom is the Mother of the Year.
Around the Web