-reports
Two men were waiting in a car while Warren Blue and Mahendra Sukull, who were shot dead on Monday night, robbed the Lahago Supermarket at Montrose, East Coast Demerara (ECD), according to the police.
And from all indications, Blue, who was wanted in connection with the 2012 killing of Agricola teenager Shaquille Grant, had been hiding out in the interior, eluding the police until he was cornered and killed on Monday evening.
Blue, 33, of Liliendaal, ECD and Mahendra Sukull, 24, of Prashad Nagar, were both fatally shot at Montrose ECD, after an alarm was raised during their armed robbery of the supermarket. During the attack, proprietress of the Lahago Supermarket, Latchmie Baburam, was shot by one of the two men. She is still on her way to recovery at the Georgetown Public Hospital.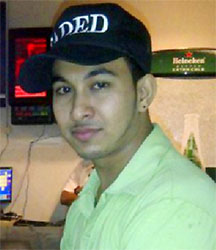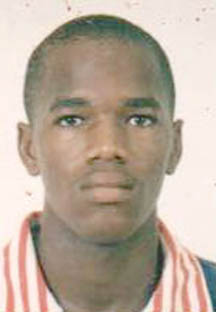 Asked during a telephone interview yesterday about Blue and Sukull's accomplices, 'C' Division Commander Assistant Commissioner Christopher Griffith said that according to information received, two other men were seen in a car outside the business and they appeared to have been waiting on the duo. He further mentioned that the police are still investigating the robbery.
Blue's sister Sabrina Blue told this newspaper that the picture painted in the media of her brother, was not like him. She said her brother had told her that he had not killed Grant, adding, "he likes children bad." She said she had advised Blue to surrender, but he was convinced that the justice system would fail him.
Sabrina said she was last in contact with Blue, a month ago, via telephone. She explained that he would randomly call to check on his children and on each call he used a "strange number."
Sabrina told this newspaper that her brother had never left the country. "All he said he in the bush" she declared, adding that he never specified his exact location.
Sabrina described Blue as a "friendly, cool and helpful person" whom she never knew to be involved in a life of crime, until Monday. The grieving sister added that like the entire country, she did not know how her brother connected with Sukull.
A former colleague of Blue also reflected on his life and described him as a jovial and friendly person.
With regard to his involvement in crime, that friend said, "with him [Blue] being on the run over the Shaquille Grant killing, maybe the pressure of not being able to provide for his family got to his head." That friend however, made it clear that no matter the pressures as a policeman, Blue ought to have known and done better.
"Everybody goes through tough times," the friend said, adding "but you got to stay level-headed."
Police had said in a statement on the robbery that public-spirited members of the community and police ranks who responded quickly to the report confronted the perpetrators and there was an armed confrontation and the two suspects were fatally shot.
Two unlicensed .32 Taurus pistols with five rounds were recovered by the police along with a number of .32 spent shells.
All efforts to contact Crime Chief Leslie James to enquire how Blue managed to elude police for two years and whether they had known that he was in Guyana all this while, proved futile.
Around the Web