The Donald Ramotar administration was yesterday accused of sabotaging an ongoing civil society summit by intimidating backers to pull financial support and forcing the shifting of the venue.
Although the summit, which began on Wednesday, was due to continue yesterday at the Guyana International Confer-ence Centre, at Liliendaal, it was moved to another location in Kingston, Georgetown after management of the centre announced that certain parts of the facility had "developed a number of issues."
Dr Philip Mozart Thomas, Head of the Guyana National Council on Public Policy, which organised the summit, later told Stabroek News that he believed "state-sponsored violence" was to blame for the situation.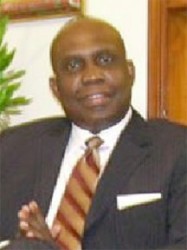 The Office of the President, in a statement on Tuesday, had urged the public not to attend the Guyana National Civil Society Summit, while labelling Thomas a "shady character" with questionable international connections. Nevertheless, a fair number of people attended the opening ceremony.
However, yesterday invited members of the National Assembly did not turn up and sponsors pulled out from signing cheques to rent the Conference Centre. The summit was organised by the Council for civil society to gather and demand a change of constitution and yesterday's meeting was intended to address members of the Assembly on certain issues. Even though they were a no-show, the summit went on.
Thomas yesterday told Stabroek News certain representatives from a government office had sent fear in the minds of the sponsors of the summit and caused them to pull out. He said some of the sponsors were very open about their interaction with these representatives and stated that they withdrew their support for fear that the government would victimise them.
"It is devastating that the sponsors withdrew their support," he said. "We don't know who gave them the audacity and authority to tell us that we should not meet as a people," he added.
Prior to this, Thomas said he was approached by the management of the Conference Centre, who indicated to him that the facility had developed a number of issues. He said a man informed him that there was no running water and the air conditioning system was defective. Still, the Council indicated that it was willing to continue the forum in the building while offering to bring its own portable air conditioning system.
Thomas said the Council will continue to advocate for constitutional change and freedom from dictatorship. "We will succeed at it! There is resonance in the voices of the people and we will do everything in our power to ensure reform," he emphasised.
He further stated that "sovereignty" belongs to the people and not the government, which was only elected to guide the people and not dictate to them.
Around the Web