The flagship air carrier of Curacao, Insel Air has increased its flights to and from Guyana.
GINA said that this was formally told to President Donald Ramotar when he met with senior company officials including Director of International Affairs, Edward Heerenveen at the Presidential Complex yesterday.
GINA said that the airline officials, accompanied by Public Works Minister Robeson Benn, and Tourism Minister (ag) Irfaan Ali, updated the president on the company's plans which will see twice weekly flights being offered from Guyana to the Dutch Caribbean island of Curacao, in addition to the two already scheduled flights to Aruba.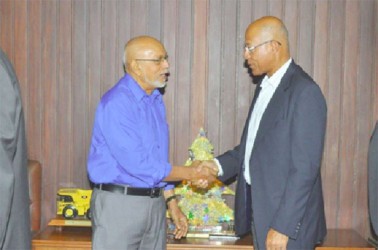 GINA said that meetings were also held with Agriculture Minister, Dr. Leslie Ramsammy. He was told of the airline's plans to ship fresh fruits and vegetables to Curacao and Aruba where hotels will purchase them.
This move was welcomed by the minister who said it offers new markets for local farmers.
The airline currently offers connecting flights to 21 destinations from Curacao and Aruba, in North America, Europe and Asia.
GINA said that the airline is prepared to launch two flights weekly between Aruba and Manaus in Brazil, commencing in January 2015.
Around the Web