The joint services are to receive an extra month's salary, President Donald Ramotar announced yesterday when he addressed hundreds of soldiers, at Camp Stephenson, Timehri, as they participated in their annual Christmas luncheon, GINA said.
It has become customary for the government to announce the one-month bonus at this luncheon.
The president, who is also the Commander -in -Chief of the Armed Forces, noted that it was his first visit to the base and said he hopes to visit other locations.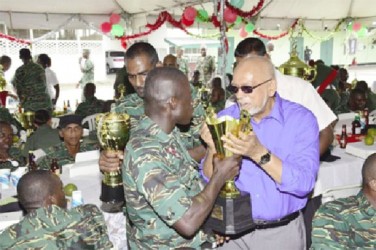 GINA said that mention was made of the fact that training was more than  just being physically fit, and the President welcomed the news that ranks were embarking on more training courses to equip themselves in various skills.
Ramotar said government is committed to equipping ranks with more "modern tools", with which to do their jobs. As he referred to recent terror attacks and mass killings in Pakistan and Mexico, he stated that security is not just about securing borders, "it seems to me that more and more, we have to build cooperation, between the forces in the security sector and be able to come to each other's assistance from time to time".
Government, he said, has invested a lot in the military and there are many skilled ranks. "Therefore it seems to me it would be a waste of resources if we do not use those resources to strengthen other areas in our security sector….this is part of the whole general thrust of securing our nation so that we can develop and move forward", GINA quoted him as saying.
Ramotar urged ranks to continue to uphold the good name of the GDF, even though some, a minute group, may seek to "soil the name" of the organization.
Addressing his ranks, Chief of Staff, Brigadier Mark Phillips said that 2014 was a good year for the military, noting that Base Camp Stephenson is the main operating staging and training base. Ranks have trained hard and conducted more courses than in many previous years, he added, according to GINA. The GDF head congratulated the Air Corps which he said managed to keep its SkyVan aircraft airborne thus effecting savings of around $20 million.
The Coast Guard also came in for special mention for maintaining the seaworthiness of the vessel, the GDF Essequibo over the year.
Brigadier Phillips said, according to GINA, that the GDF is the people's army, and will work under the strategic direction of the president in a multi-agency approach with other joint services. He also assured the president of the GDF's commitment to the defence and security of Guyana particularly in view of the upcoming general and regional elections.
Around the Web