Just weeks after being charged with shoplifting pricey liquor from a city supermarket, Lakeram Doodnauth found himself in a court once more charged with the same crime.
Doodnauth, 56, is now being accused of stealing a bottle of Johnny Walker Black valued $13,500 from Survival Supermarket on Sheriff Street, on December 17.
He pleaded not guilty to the charge after it was read to him yesterday by Magistrate Ann McLennan at the Georgetown Magistrates' Court Two.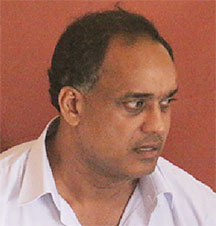 Prosecutor Deniro Jones said while Doodnauth was about to exit the supermarket door, he was caught by the security guard and the item was recovered. Although Doodnauth had been previously charged for similar crimes, he had no objections to bail, which was set at $15,000. He is to make his next court appearance on January 5.
Doodnauth was charged at the start of the month with stealing bottles of Ciroc as well as Grey Goose vodka and Absolut Vodka from Distribution Services Limited (DSL) on two occasions in November and he had offered to compensate the supermarket for the liquor.
Around the Web