Two nurses attached to the Public Health Department of the Georgetown Mayor and City Council (M&CC) picketed outside of City Hall yesterday, claiming that they have not been paid in five months.
Sandra Hanover, 55 and Sharon Chase, 48, along with several supportive colleagues called on acting Town Clerk Carol Sooba to pay them while venting their frustration at the hold-up.
According to Hanover, she and Chase began working on August 4th of this year and are still awaiting their salaries since that time.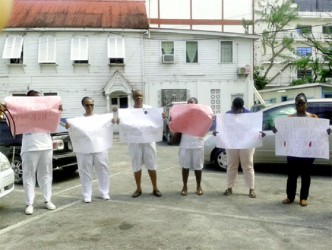 She explained that a "pay approval" had been sent to Sooba for her to sign. However, they have not received any reply nor were any payments transferred to their accounts.
Mayor Hamilton Green, supporting the picketers yesterday, said the two nurses, like all other nurses, were employed by the Council and the Personnel and Training Committee and all procedures were followed.
The Mayor said Sooba has not given any reason why she is not approving the payments and called on her to pay the two women.
When Stabroek News visited the Office of the Town Clerk yesterday morning, an individual who appeared to be her bodyguard said Sooba was unavailable. Several other attempts during the day to contact her via telephone were futile.
Hanover and Chase also related that they visited the Ministry of Labour and expressed their frustrations to an official, who in turn, told them to keep working and offered them some comfort.
However, that person is yet to deliver.
"We met with a woman recently at the ministry and she tell us that she will do all that she can, but we must keep working because if we walk, we won't get any pay. But still nothing yet. We still waiting," Chase said.
Chief Labour Officer Charles Ogle told Stabroek News yesterday that he was unaware of the situation.
He stated that the M&CC staff is unionised and the union should have intervened in the matter. However, he invited the two nurses to go down to the ministry so that they can resolve the situation.
Hanover, who has been a healthcare provider for the past 33 years, explained that she and her colleague usually travel around Georgetown and provide a number of services at several health centres, including Albouys-town, Queenstown and Festival City.
They conduct pre- and post-natal services, counselling and family planning guidance and child health services.
Asked why they continued to work although they weren't getting any payments, Hanover replied, "If we had stop working, they would say that we walk of the job and we wouldn't get any pay."
Chase told Stabroek News she is frustrated and disclosed that she and her child are facing difficulties in coping with their day to day lives.
"Being a single parent, alone, is very hard, and now I can't receive any pay. Christmas coming and we want we money. I been a health care provider since 1987 and I never experienced something like this… I hope she (Sooba) listen to us and we can get pay," Chase said.
Asked if any attempts were made to contact Sooba to inquire why they weren't receiving any payments, Chase responded, "I visit her the other day and she told me that she will look into it and how we will get pay but up to now…nobody giving us a positive answer and it frustrating…."
Around the Web