A jilted cane harvester went berserk and brutally chopped three persons to death around 12:30 am yesterday at Phase Two Tuschen Housing Scheme, East Bank Essequibo.
The bodies of the woman, Bibi Zalima Khan, 55, of Endeavour, Leguan and Ashley Boodhoo were found in the house where the chopping took place while the remains of Floyd Drakes, 30, also of Tuschen Scheme were found a few hours later behind a latrine in the yard.
The man's estranged reputed wife, Geeta Boodhoo, 30, a salesgirl at a general store at Meten-Meer-Zorg also sustained severe chop wounds to her shoulder and hand while her wrist was almost severed. She remains a patient at the Georgetown Public Hospital where she underwent emergency surgery.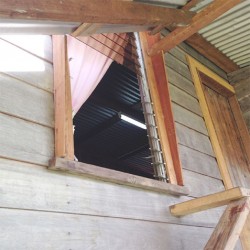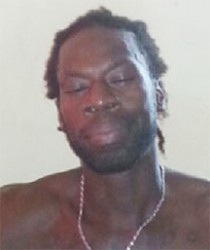 Reports are that the man, Joshua Franklyn, in whose house Boodhoo lived with her six children – two of whom she shared with him – smashed the louvre panes to gain entry and started "firing chops."
He reportedly used a machete and cutlass to carry out the horrendous attacks, while shouting; "Me doan get food in hay so meh come fuh kill all ayo modda [expletive]."
At the time, the family was watching television and Drakes who had reportedly accompanied Boodhoo home after work, was with them. He was said to be her lover but her relatives denied that she was involved with him.
Stabroek News learnt that he attacked Khan, his first victim, in the living room, as she was about to escape. He lashed her first with the machete before inflicting the deadly blows with the cutlass.
She was chopped to her right hand and as she barred the blow, he almost split her hand lengthwise while her thumb on her left hand was severed. She left her home in Leguan two weeks ago to take care of Boodhoo's children.
The children; Ashely, Varshinie, 8, Joroad, 7, Jonathan, 6 and two-year-old twins; Rohini and Mohini had locked themselves in a bedroom and hid under a bed.
But Ashley opened the door and ran out and when her siblings tried to stop her she responded that she was "going to look fuh mommy."
According to reports, the assailant grabbed the child and mercilessly hacked her to death. She sustained wounds to her head, abdomen, back and hands.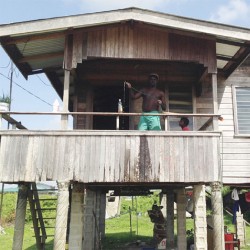 He then turned his attention to Drakes, an upholsterer, who ran towards the kitchen in a bid to escape. Franklyn followed him and Drakes pushed him into the wall and choked him before running down the stairs.
Franklyn caught up with him again, and a male relative reportedly held Drakes while Franklyn dealt him several chops. He ran out of the yard but collapsed behind a latrine where his body was later found in a pool of blood.
Boodhoo had already run out of the yard but did not reach very far when the attacker followed her and started chopping her as well. She kept running up the dam and entered the yard and onto the verandah of a nearby resident, Eon Innis, 37, calling for help.
Franklyn then returned to the house and pushed opened the door to the room where the children were hiding, put down the cutlass and saw them under the bed. In fright, one of the sons told him, "we ain't know wey mommy deh."
He then walked out and called on the relative who was said to be assisting him to give him a [red] bicycle which he later used to flee.
At the scene, there were bloodstains on the kitchen floor and in the living room where CDs were also scattered and it was evident that there was a struggle.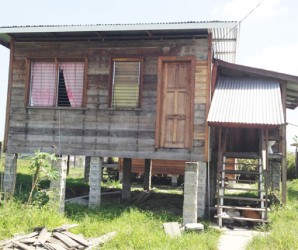 Innis told Stabroek News that he heard Boodhoo banging at his verandah door and calling out for him to help her. He enquired what had happened and "she told me she got chop and that Joshua had killed her mother."
Instinctively, he grabbed his car keys and was coming out to help her but his wife advised him not to go out for fear that they too would be attacked.
Shortly after, Franklyn started pounding on his verandah door and called out to Innis' wife, Samantha to open up. Innis told him, "you can't come here; your wife is not in here. And when he hear my voice he beat out."
He did not find Boodhoo because she had apparently seen him coming and ran down the stairs and hid in front of Innis' car under the house.
When this newspaper visited, Innis, with the help of a young resident, was cleaning up the bloodstains from the verandah and along the stairs.
Innis had contacted a relative who went over to the Tuschen Police Outpost to inform them of the horrific crime.
By then the children left the house and were walking on the dam and Varshinie informed her mother that her sister was also killed.
The officer visited the scene and contacted ranks from the Leonora station. They arrived shortly after and some of the officers took the woman to the hospital.
Franklyn was in the habit of abusing the woman and she got him locked up a few times. He was also placed before the court and the magistrate had ordered him to stay away from the woman.
Around the Web