The Ministry of Culture, Youth and Sport on Monday presented awards to the winners in its second National Choral Festival on December 15 at the National School of Music, Brickdam.
According to a Government Information Agency (GINA) press release, the National Choral Festival was held on November 9, and saw six groups emerging winners from the two categories, namely large group and small group. In the large group category, the winners were St Joseph's High, New Amsterdam Secondary and Marian Academy; while the small group winners were Circle of Love, the Messengers, and J4 Inspiration.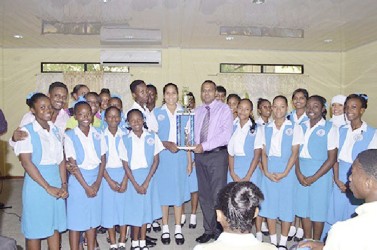 The competitors each had to perform a national song or a combination of such and one other song of their choice. Present at the ceremony were Minister Frank Anthony, Coordinator of the Music School, Andrew Tyndall and Festival Coordinator Andrea Mentore.
Anthony said the objectives of the two editions of the festival were achieved and in the future, the Music School would conduct more outreaches to meet existing and emerging groups. He also made mention of the school's success in having received 17 distinctions from the 25 students who sat the Royal School of Music theoretical exams. Mentore, however intends to have a capital injection during the off season to aid with an improvement in the quality of future competitors.
The Ministry is expected to host a steel pan Christmas Festival on December 20 in the Botanical Gardens with the support of Republic Bank (Guyana) Limited.
Around the Web