US Embassy Chargé d' Affaires Bryan Hunt yesterday presented Guyana Defence Force (GDF) Brigadier Mark Phillips with the second shipment of a communications package to the Guyana Defence Force at Camp Ayan-ganna.
A release yesterday from the US Embassy said that the package, comprising hundreds of car-mounted and handheld Motorola radios and accessories, was donated to the GDF and the Government of Guyana.
The value of the equipment donated in September was $250,000 USD and this donation tripled that value at US$750,000, bringing the total to $1M USD, or $200M.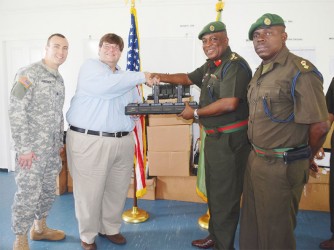 In brief remarks Hunt, the release said, expressed his "strong desire to continue building on the excellent bilateral security relationship the U.S. shares with Guyana, and he hoped that the communications equipment could be used in a wide variety of ways including the battle on drug trafficking."
The release said that Brigadier Phillips thanked the US Government for their continued support to the country and the GDF as they continue to improve and enhance their capabilities.  He mentioned the possible use of the equipment in next year's elections.
The release said that this presentation is one of a long list of activities demonstrating the strong relationship between the GDF, the U.S. Embassy's Security Cooperation Office, and the Florida National Guard State Partnership Program.
The equipment handed over yesterday was donated by the St. Augustine Police Department and St. John's County Sherriff's Office in Florida.
The release said that the past year has featured multiple engagements between the Florida National Guard State Partnership Program and the GDF in a number of areas.  U.S. Army Captain Lawrence Fischer, the State Partnership Program Manager for Guyana stated that the Florida National Guard continues to support efforts in Guyana and looks forward to more opportunities in the near future.
.
Around the Web