A small wooden house on Sideline Dam, Middle Road La Penitence went up in flames yesterday afternoon after suspected illegal wires caught fire.
A family of five was left homeless after the fire raged through the small house around 2:30pm yesterday.
The house was reduced to rubble by the time fire-fighters arrived on the scene. The blaze had also spread to another house on the land but villagers rushed to the aid of the other family and managed to save the house.
Many residents in the area jumped into a nearby canal to fetch water to put out the fire.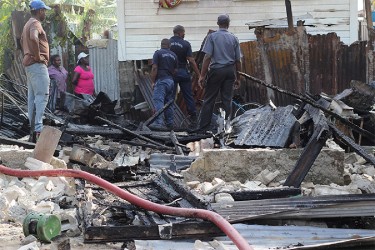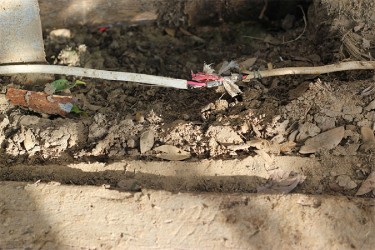 According to the residents, firemen from the West Ruimveldt fire station responded too late to the emergency call. Some of them were heard shouting that the fire service was a "waste service".
A source from the fire station, however, told Stabroek News that the fire appeared to have been caused by illegal wiring.
Illegal wires were observed to be running on the ground at the side of the two houses and also along the trunk of a tree.
The owners of the house were nowhere to be seen at the scene. Neighbours said when they tried to make contact with them, the owners refused to go to the scene.
Marcel Wilburgh, the owner of the other house that was salvaged, said she received a call from someone that the house behind hers was burning. She said when she reached home, the house was already burnt to the ground and people were busy trying to save hers.
Wilburgh said the firefighters arrived at the scene "a long while" after she reached home. "The fire people come like always without any water…is people save this house not them," she said.
Around the Web