Magistrate Ann McLennan yesterday remanded a prisoner charged with having a quantity of cocaine but not before his lawyer said that the drug was in trousers that the accused had borrowed.
It is alleged that on December 17 at Camp Street Prison, Lawrence Shultz, 30, of East Canje, had in his possession 2g of cocaine.
He pleaded not guilty to the charge when it was read to him when he appeared yesterday before Magistrate McLennan in the Georgetown Magis-trates' Court 2.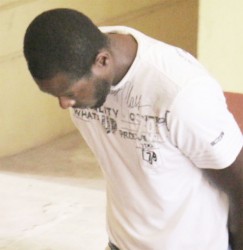 In her application for bail, the accused's attorney Konyo Thompson said she believed she had special reasons that would allow the court to grant her client his pre-trial liberty. Thompson said Shultz had been in custody for five days in the McKenzie lock-ups over break and enter and larceny.
She said the cocaine was found in his back pants pocket, but the pants did not belong to him, rather he had borrowed them since he had not been properly attired to attend court for the previous matter.
Prosecutor Deniro Jones objected to bail on the grounds of the nature and gravity of the offence. The facts of the case are that Shultz was searched in the Camp Street prison and the drugs were found on his person.
The magistrate subsequently remanded him.
Shultz was charged on December 17 for break and enter and larceny. It is alleged that between August 17 and August 18, he broke and entered the store room of Saif and Samaria El Dorado Mining Company and stole a quantity of items amounting to $8.9M in total value. He was granted $150,000 bail for that offence. It appears that he was unable to post bail.
Around the Web