Even as two of the three victims in the Tuschen, East Bank Essequibo triple murder have been laid to rest following post-mortem examinations performed yesterday, the suspect has still not been caught.
Bibi Zalima Khan, 55, and her granddaughter, Ashley, 9, were buried yesterday following a Janaza (funeral prayer) at the Tuschen Scheme Mosque.
The third victim, Floyd Drakes, 30, is expected to be buried next week. The trio died as a result of "multiple incised wounds."
They met their demise when the attacker, said to be Joshua Franklyn, a cane-harvester brutally hacked them in a fit of rage around 12:30 am on Thursday.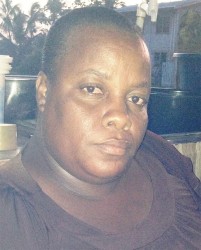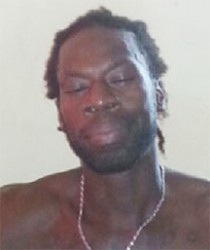 He had also badly wounded his estranged reputed wife, Geeta Boodhoo, 30, a waitress at a bar, who later underwent surgery at the Georgetown Public Hospital.
Reports are that Franklyn who turned 45 on Wednesday and the woman who were together for seven years would constantly fight. She made reports a few times at the station about the abuse and threats and he was arrested and charged.
His sister, Joycelyn Fraser, 40, told Stabroek News yesterday that her brother was last locked up in October and placed before the court. He was remanded until last month and upon his release, he was ordered to keep his distance from the woman. He then started staying at a brother's home at Vergenoegen. The matter has been scheduled for March, 2015 and his sister said she had warned him to stay away from Boodhoo.
She said her brother always suspected the woman of being unfaithful especially during that the time when she would "get him locked up." She had told him that "regardless of what the woman was doing, the court had to make a decision."
According to Fraser, "It seemed as though someone was feeding him with information" regarding Drakes visiting the home. She felt it wrong for the person to do that because of what it led to.
"I'm sorry that these people end up losing their lives, especially the little innocent girl. She was a very pleasant and chatty child. Anyone who came into contact with her would fall in love with her."
She recalled that over two years ago following a fight between the two, her brother was imprisoned and Boodhoo left to work in the interior, in search of a "better life." She later returned pregnant with her twin daughters.
She said that her brother was frustrated and felt he was provoked and "pushed to the limit. It wasn't easy that he had a house and couldn't stay in it… The laws of Guyana don't cater for men."
He owned a smaller house at Vergenoegen but dismantled it and built the current one when he acquired the land at Tuschen two years ago.
She recalled that Franklyn started working with rice farmers at the age of 10. During the out-of- crop season he would be engaged with the same rice farmers.
He told me that the last time he was arrested he was riding along the street when the police told him to 'get in the van'."
Fraser last saw him around 4:30 pm on Wednesday when he rode past her snackettte as she plied her trade and told her, "Aye, today is meh birthday. Before I could say happy birthday, he done gone."
She did not see when he returned but said his 20-year-old son, Jimmy whose house is located at the back of his Tuschen home, took food for him.
Fraser who lived close to where he was staying could not say when he left the home that night to carry out the heinous attacks. Around 3:30 the next morning she learnt about the murders.
Meanwhile, Drakes' reputed wife of two years, Shazeen 'Christina' Singh, 25, said she was not aware that he was having an affair. She also said that she kept his phone sometimes and "no woman ever called on it."
Boodhoo's relatives have claimed that she was not involved with him but he had accompanied her home after work. Singh also told this newspaper that he treated her well and always "came home normal time."
Singh also worked at a Chinese restaurant and bar at Zeelugt but Drakes stopped her from working and he provided her with whatever she needed.
Sometimes when he returned home late, she thought "he was hanging out with friends." It was no different on Wednesday night.
She made calls to his phone earlier and he told her he was coming shortly. But when she tried it again later it went to voicemail.
Around the Web