Christmas came early for three Windsor Forest siblings yesterday when they were freed of the 2009 murder of their stepfather Motilall Singh at Windsor Forest, after a jury of their peers returned a unanimous not-guilty verdict, at the end of their High Court trial.
At the end of almost two hours of deliberation, a 12-member jury told Justice Dawn Gregory, who presided over the trial, that they had unanimously found Bibi Samiza Khan, Hoosman Khan, called 'Strong Man' and Bibi Farida Khan not guilty.
It was alleged that between September 2 and September 8, 2009, at Windsor Forest, the Khans conspired with others to murder overseas-based Guyanese Motilall Singh. The bloodied body of Singh was found close to a tiny bridge at Second Street, Windsor Forest and a post-mortem examination later ruled that he had been stabbed over 20 times and died of haemorrhage and shock, due to multiple incised wounds about his body.
This was the Khans' second trial after the first one ended in a hung jury.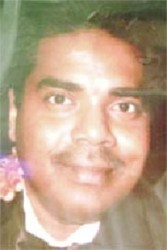 The prosecution had presented caution statements the siblings allegedly offered to the police, in which they reportedly confessed to the crime.
The caution statement purportedly given by Shamiza Khan stated that their mother had informed her of Singh's plan to end their marriage and had asked Shamiza to hire someone to kill Singh while he was in Guyana for his brother's funeral. According to the statement, Shamiza discussed it with her siblings, who all conspired to kill Singh.
The caution statement attributed to Hoosman Khan alleged that he had been told by his sisters that they had to kill Singh. On the night in question, according to the statement, Hoosman and Singh were returning from a bar where they had been imbibing alcohol, sometime after midnight, when he called Shamiza to inform her of their location and she instructed them where to stop.
Three men then attacked them and as one of the men held on to Singh, he (Hoosman) ran away.
Farida Khan in her alleged caution statement told the police that her mother had sent money to pay the person they hired to kill Singh.
According to the statement, the man the sisters approached had refused their offer, but they forced him to collect US$800. However, when the time came for him to carry out the task, according to the confession statement, he did not take the sisters' calls.
However, all three accused, during their retrial, gave sworn statements in which they said they were forced to sign the statements and that they had not been given voluntarily.
Hoosman alleged that he was assaulted by the police and because he did not want to be further abused, he had signed the caution statement.
Farida alleged that she was promised she would be taken home if she signed the statement.
She said she signed the statement which was taken to her, as she was sick from not eating and needed to take the medication she was on.
Shamiza told the court that she signed the statement given to her by the police, so that she could be reunited with her young children, who were left at home alone.
As Justice Gregory summed up the evidence and instructed the jury, Shamiza was seen leaning on the top of the dock, her right hand holding her head and simultaneously tapping her feet.
Hoosman sat with clasped hands and frequently glanced across to his wife and children.
Farida also made eye contact with relatives and constantly wiped perspiration from her face with a handkerchief.
At the announcement of freedom, the trio made a triumphant exit, in the company of emotional relatives who shouted praises. "When Jesus say yes, who can say no," one relative shouted in the hall of the High Court, while others cried and held on to the trio.
Thirteen witnesses, including police ranks testified during the re-trial which commenced last month.
The Khans were represented by Senior Counsel Bernard De Santos. State Counsel Natasha Backer and Mercedes Thompson presented the state's case.
Around the Web