A Guyana Power and Light Inc (GPL) worker is nursing a broken arm for Christmas, after he fell with a rotting electricity pole on Wednesday, at Angoy's Avenue, New Amsterdam, Berbice.
Keagon Sampson, 23, of Lot 14 Third Street, Manchester, Berbice, told Stabroek News that he broke his arm when he fell with the 25-foot pole into a neighboring yard.
The injured man said all he remembers is being on the pole at 2.30 pm and that minutes after a colleague passed an instrument to him, "I fall into a neighbour's yard unconscious," he added. Hours later, Sampson said he woke up in severe pain, at the New Amsterdam Hospital, where he was first admitted, before being referred to the Georgetown Public Hospital (GPH).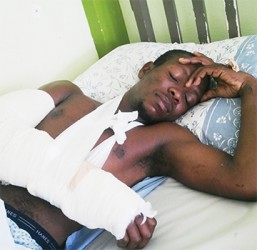 "My hand broke in one place and shifted out of position," Sampson explained. Moreover, he said since his admission at the GPH, he has undergone a surgery to affix steel to support the healing process of his arm.
When this publication enquired why Sampson climbed a rotting pole, he said that the pole had appeared to be sound. "It broke from inside," he said, adding that GPL workers would place an "X" on rotting poles, as a warning to others. However, Sampson said, that pole had no such marking, nor did it appear to be rotting.
The man might be forced to spend Christmas in the health facility, since he does not know when he will be discharged. Nevertheless, Sampson said that he is thankful that he is alive.
Around the Web