Salvaging the multi-billion dollar fibre-optic cable project will be costly and will require government to be frank about key attributes of the project which may in turn expose poor decision-making.
"To salvage this project the Guyana government will have to be honest with analysts and the technical remedial team …I doubt they would want to expose the magnitude of their failures and that itself will cost taxpayers hundreds of millions more," one fibre optic specialist told Stabroek News.
The project to lay a fibre-optic cable from Brazil to Georgetown to vastly expand internet bandwidth came back into sharp focus two Mondays ago when Stabroek News reported that government officials had gone quiet on a project which had missed many deadlines.
At a recent press conference, Head of the Presidential Secretariat Dr Roger Luncheon acknowledged that the project needed "remedial work" but failed to mention that it had been suspended. That announcement was quietly in the December 12 edition of the Guyana Times by the Project Manager Alexei Ramotar who had not been available to Stabroek News for several weeks to discuss the state of the project.
A Partnership for National Unity (APNU) feels the project should be put on hold until a comprehensive assessment is carried out and then a decision should be made on its future.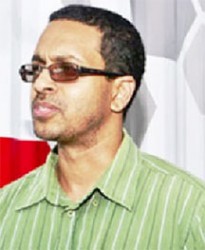 In an interview with Stabroek News the party's Shadow Minister of Public Works Joseph Harmon lambasted government for its secrecy on the project.
He pointed to Ramotar's quiet disclosure to only to the Guyana Times that the project had been suspended since last year when up to earlier this year government had said the project was behind schedule but that works were ongoing.
"Look now, the father has not made a public declaration on its status and the son is saying quietly it is suspended. Well that will not cut it. We want you to tell us why it was suspended. What you have done so far with the people's billion [dollars], what do you intend to do now… They have to take responsibility for this other mega failure. Tell the people the truth," he said.
"From the onset I said that [Alexei] Ramotar did not have the experience to handle such a big project. Even Dr Luncheon had been expressing doubt when he complained that the project continues to be extension after extension and costing the taxpayers more money," he added.
Harmon said that the project, the brainchild of the Jagdeo administration, was mired in inefficiencies from its onset and he believes government must suspend it pending the recommendations of expert fibre optic analysts.
"All I can see now is for us to look and see what can be salvaged. I would recommend that this project should be put on hold until such time that we have national experts look at what it is that we really have and make recommendations on a way forward. If you started off with an objective and you don't achieve it then it is wasted money, this project so far, has been wasted money," he posited.
Stabroek News spoke with local and international fibre optic experts, some who have inside knowledge of the project, and they all concede that for a decision to be made on the project government would have to be truthful.
"From the design and construction phase it went wrong. A macro plan was needed. We are looking here at laying a cable across different terrains, the land type is different here in Georgetown to that of Linden to that of Lethem. In the design phase you would have to know what mode of cable you will use where and if laying it underground would be best,,, or on poles; the technical parameters. From what I have assessed this was not done," one expert said.
"Fibre optic cable is made of glass, comes in drums and needs to be handled in a certain way. It is not electric copper cables so because of the fragility you can't just have any contractor who would have said 'I laid a cable already' come to execute the job. He will break the cable and if that was one that had to be buried is problems to troubleshoot," he added.
The expert noted that it is for salvaging purposes the truth should be told. "Put it like this, if you have them say we bought this superior quality cable and it was actually an inferior one you have a problem there. If they say we only had four joins and it's ten within a specific area problem again…," he added.
Further, the specialist said that finding and rectifying problems on the network would be a time consuming one. "If the cable is damaged it is going to be painstaking finding the breaks …you will have to send a light from either end and see where it reaches. Where you see a drop off you have to find that break, dig up the cable and rejoin. It can be many breaks in that whole area so you have to do it bit by bit by bit and you see the distance from Georgetown to Lethem," he said.
Another specialist told of the shoddy works carried out by local contractors. "You have cases where the cable was laid so shallow that the rain… washed the surface away exposing it, then vehicles traversed constantly over it and we know that is no good. The contractors should have been supervised properly to ensure they worked to specifications needed," the specialist said.
"Another example is where you had cables that had to pass through creeks and believe me they were placed on tree forks stuck in the creek so people bathing in the creek or heavy rains again and the cable washed away," he added.
For the project four local contractors were hired: Dax Contracting, Dynamic Engineering, Mekdeci Machinery and G Bovell Construction Company.
It is unclear if any of the companies had requisite expertise or experience in carrying out similar works.
Dr Luncheon would only say that some of the contractors were taken to court for breach of contract. However, when details of the litigations were requested of him he did not respond.
The experts all believe that there is a possibility that the project could be saved. However, the cost of saving it and whether it would still be feasible when completed, they said, was a different matter.
"It is not impossible but if they are not transparent and own up to the errors in the execution of the project, from the hiring of untrained contractors to lay the cables to the purchase of the quality of the cable then there is no way one will be able to appropriately troubleshoot, estimate costs and rectify the defects, no way," one expert said.
"Would government hand over a document of that magnitude remains a tinkering question for us all," the expert added.
Around the Web