Questions have been raised as to how fugitive policeman Warren Blue managed to elude capture for more than two years before being brought down by a bullet to the head.
Blue was shot dead a week ago after he and at least one other man committed an armed robbery on a supermarket at Montrose, East Coast Demerara. A wanted bulletin and an arrest warrant were out for Blue and another policeman, Special Constable Jamal Lewis, for the 2012 murder of Agri-cola youth Shaquille Grant. Lewis is still at large.
Though the police were seemingly unable to locate Blue, the man was in constant contact with at least one of his relatives. From all indications, this information was never shared with investigators.
His sister Sabrina Blue told this newspaper that the last time she had contact with Blue was a month ago, via telephone. She explained that he would randomly call to check on his children and with each call he used a "strange number."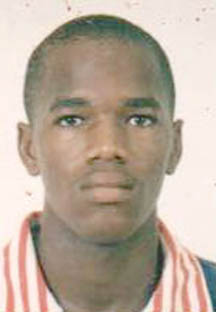 According to Sabrina her brother had never left the country. "All he said, he in the bush" she told Stabroek News, adding that he never specified his exact location. After he vanished, there were suspicions that he might have left the country and the police had even contacted their counterparts at Interpol. Back in 2012 then Crime Chief Seelall Persaud had insisted that all efforts were being made to find the duo.
Asked recently how it was that Blue managed to remain in Guyana undetected, current Crime Chief Leslie James told Stabroek News that there are Standard Operation Proce-dures (SOPs) relating to the arrest of a person for whom a wanted bulletin has been issued.
James said that one must appreciate that in Blue's case not all ranks may know him adding that there are a large number of ranks in the force.
With regard to the SOPs in place, he said that when a bulletin is issued, documentation with the person's photograph and particulars are posted up at stations. He said that the person's photo and particulars are also publicized in the press.
Told of the admission by Blue's sister, he said relatives have a duty and personal responsibility to disclose such information to the police. "The onus is on the relative to provide that information to the police," he said. Speaking generally he went on to say that not only relatives but friends and acquaintances if they possess information about a fugitive, by "virtue of being a citizen," should share it with police.
Asked about the whereabouts of Lewis, he said that like Blue before he was killed, his whereabouts are unknown. Based on the information this newspaper has gathered, the fugitive cop has been moving between Guyana and one of the neighbouring countries. It would appear though, like Blue he spends most of his time in Guyana.
A security source expressed concern that Blue managed to remain under the radar for so long. The source questioned whether local lawmen were actually looking for Blue. He said the fact that the man was in contact with at least one relative and the police did not know about it, is also of concern and raises questions about the levels of confidence between the police and members of the public.
"Wouldn't it have been best to capture this man at the earliest opportunity and place him before the court for the murder matter?" the man asked, adding that the fact that Blue managed to escape before he was brought before the court speaks volumes. At the time he and Lewis disappeared, they were said to be under close arrest. How they managed to escape that arrest is unclear.
According to the source, one now has to ponder the possibility that Blue was "allowed" to escape for a reason. "The question is whether they wanted to find him," the source commented.
He stated that while the police do not have the ability or the legal jurisdiction to tap people's phone lines, it must always be remembered that fugitives at some point will contact their relatives, friends or partners as they have to be able to sustain themselves.
Blue, 33, of Liliendaal, ECD and Mahendra Sukull, 24, of Prashad Nagar, were both fatally shot at Montrose ECD, after an alarm was raised during their armed robbery of the Lahago Supermar-ket. During the attack, proprietress of the supermarket, Latchmie Baburam, was shot by one of the two men. She is still recovering at the Georgetown Public Hospital.
Stabroek News had received conflicting information about who shot Blue but according to persons in the area it was a member of a security guard service which responded to a distress call from the supermarket which is electronically monitored. It is believed that during the attack the alarm was activated resulting in the security service responding. Blue was reportedly shot after an exchange of gunfire.
Sukull, a former university student was shot at least four times in the store by police who arrived on the scene after Blue had been killed. He was cornered in a section of the supermarket. A resident said that there is nothing to suggest that Sukull had fired at the ranks. The woman insisted that she heard six gunshots, one after the other, which came from the same weapon.
The information provided to Stabroek News is that two men were waiting in a car while the duo were committing the armed robbery.
From cop to bandit
Asked about Blue's criminal history, James said that there is no information so far to suggest that the 33-year-old Liliendaal resident was involved in any other crime. He said the information in relation to the other dead bandit is similar.
According to the Crime Chief there were a number of gunpoint robberies on the East Coast committed by a "particular grouping." He said the police are still checking to see whether the duo might have been involved in any of those.
Sabrina had told Stabroek News that the picture painted in the media of her brother, was not like him. She said her brother had told her that he had not killed Grant, adding, "he likes children bad." She said she had advised Blue to surrender, but he was convinced that the justice system would fail him.
However the security source expressed a different view. He stated that the fact that he not only escaped but turned to a life of crime points to possible guilt. He said that now Blue is dead it will never be known whether he was innocent or guilty.
The source said that there is nothing stopping the rank who has been committed for the teen's murder from pointing the guilty finger at Blue.
According to the source, as in all cases when policemen are killed under such circumstances he was surprised, but one may say it is understandable as he had to find a way to get money to sustain himself. The source said the possibility is that he may have had criminal tendencies all along.
Around the Web