Fifteen-year-old Nicholas Verasammy yesterday tearfully recounted watching as a car ploughed into his three friends early Sunday morning, killing one and injuring two others, and being unable to do anything to warn them or prevent it, as police said they were still seeking the driver.
Dead is 18-year-old Parmanand Deokaran also known as "Jonny" or "Rago", a welder of Success, East Coast Demerara. Two of his friends, Davendra Mangal, 20, of 27 Better Hope and Kayshawn Ramnarine, 17, of 184 Good Hope Phase 2, were admitted patients at city hospitals. Ramnarine, who sustained a broken arm was discharged last evening, while Mangal remains an inpatient, nursing a head injury.
According to reports, the driver who struck them down fled the scene, outside the Princess Hotel at Providence, on foot leaving the car he was driving behind along with the passengers he was transporting. The driver has since been identified by the police as Asif Khan of West Demerara. Traffic Chief Hugh Denhert told Stabroek News yesterday around 4 pm that the driver was still at large and investigations were ongoing. Police had initially held two people who were passengers but has since released them.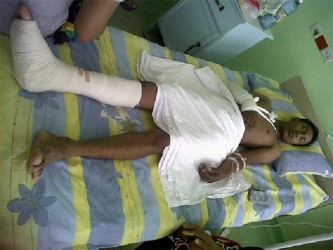 Verasammy, of 176 Good Hope, who was unhurt, but remains traumatised, told Stabroek News yesterday that he and the others were at a staff party in Vryheid's Lust, East Coast Demerara, but left after some time to visit Fun City, in the Princess International Hotel.
Verasammy said they left the Fun City around 12:30 am, but Deokaran seemed hesitant to go home. "… But I say man, it done late. So he say okay let we go then," Verasammy said.
Verasammy explained that he was sitting on the hotel's bridge when he saw the car, PRR 555, which was heading south, "swaying coming" in the distance. He further explained that his friends were unaware of the car's approach, since they were looking in the opposite direction.
"I run and try to grab them, but I only coulda grabble one a dem hand and when I mek suh fuh grab the other one, the car run into them and knock dem in the trench and he [the driver and car] and all too run in the trench," the teary Verasammy explained.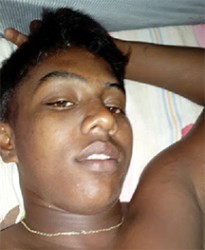 The 15-year-old and a staff member from the hotel began searching the trench for his friends.
"The first one we pull out was Mangal, then Kayshawn. Long after then we find Rago and we put them in a taxi and went to the hospital," Verasammy said.
He told this publication that his friend, Rago was lying on him when he appeared to have passed away.
"He was lying down pon me foot, all he foot and waist bruk up and I see he guh suh [imitating long exhale] and he done deh," the grieving Verasammy said with his head hanging down.
Meanwhile, Deokaran's mother, Jasmattie Deokaran told Stabroek News that the last time she saw her son he told her that he was going to a staff party.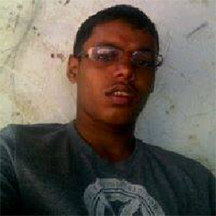 "He tell me that he going to the party, so I say lil son, must tek a taxi when you ready to come home," she said.
Jasmattie said she was awakened by a call at around 3 am and rushed down to the hospital but her son was already dead.
Parmanand Deokaran was described by his relatives yesterday as a quiet and mannerly boy.
"He nah does drink or smoke, no complains, no headaches, he was a good person," his aunt Angela said.
Parmanand was the youngest of 4 brothers; he also had 3 sisters.
Around the Web