The Essequibo River islands of Leguan and Wakenaam are now experiencing 24-hour power supply thanks to the upgrades done by the Guyana Power and Light (GPL) Company, GINA reported yesterday.
The announcement was made when President Donald Ramotar declared operational, the rehabilitated power station serving Leguan.
In his remarks, President Ramotar said, "Now we expect to hear that the children of Leguan and Wakenaam are challenging the rest of the country in producing top students as well, because we are now investing in you. Indirectly it might be said, but you will be having 24 hours electricity to study."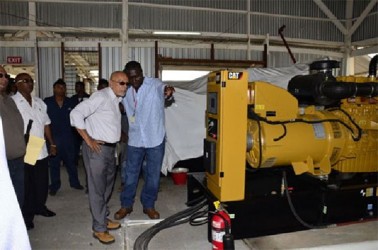 GINA said that he also urged that students look less at soap operas and turn to the learning channel.
The advent of a steady 24- hour supply should see the island and neighbouring, Wakenaam which is linked to its neighbour, benefit from further development, the president said.
GINA said it was recalled by GPL's Chief Executive Officer Bharrat Dindyal that the island's first electricity supply service was commissioned by former president Janet Jagan. He explained that initially the service was provided six hours daily, then 12 hours from Monday to Friday and through the weekend, with special consideration given to national holidays and special occasions. The communities east and west of the power station, he added, including Canefield in the East, and from La Bagatelle to Henrietta in the West were first serviced. In 1998, the service was extended to the northern part of the island, and now over 1,000 customers benefit.
The Leguan power station now has three new 513 KVA units, auxiliary supplies and a heavy-lift forklift. The new generating sets were installed over a three-day period from, December 9 to 11, with successful load testing and synchronisation being done to ensure that their usage is assured and machine rotation is possible without power outages.
Around the Web