Relatives of Crabwood Creek housewife Mohanranie Udaraj, who was stabbed to death at her home on Thursday, are living in fear of the alleged murderer, Devendra Hansraj also known as "Dog man".
They also alleged that she had suffered violent attacks from Hansraj throughout the couple's three-year relationship.
Udaraj, called Sherry, 28, of Lot 17 Grant 1780, was found at home lying in a pool of blood with stab wounds to her neck last Thursday. She was pronounced dead on arrival at the Skeldon Hospital.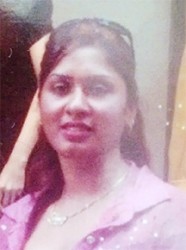 Sherry's mother, Sandra Vasquez told Stabroek News that neighbours informed her that Hansraj, who they heard fled to Nickerie, Suriname, returned to the community after the fatal stabbing and made known that he has unfinished business.
"Me in danger and me want protection," an overwhelmed Vazquez stated, adding "…I need the police to find him." She also expressed the belief that Hansraj is visiting the community when night falls, waiting to catch them off-guard.
Additionally, Vazquez reflected on Hansraj's and Udaraj's visit to the United States of America in August last, during which he allegedly assaulted his spouse. The elderly woman said that she intervened, only to have Hansraj threaten her.
She further noted that from the beginning of the relationship, her daughter suffered frequent attacks. She singled out one occasion where Hansraj ended up in police custody, after he allegedly stabbed Udaraj in the abdomen. However, an angry Vazquez said Hansraj was later released by the police at the begging of Udaraj. "Two Christmas ago my daughter [Udaraj] was in the hospital after he [Hansraj] stab she" said an emotional Vazquez, adding, "but this Christmas she dead."
Meanwhile, 'B' Division Commander Assistant Commissioner Brian Joseph told this newspaper that the police have so far engaged their "counterparts" in Suriname in effort to arrest Hansraj. Moreover, when told of the reported threats by the suspect to Udaraj's family, Joseph advised them to call the police. The commander reiterated that the police are pursuing all leads.
Around the Web