Timehri North residents say they are continuing to face demands to relocate, although there is still no word from authorities about where they are expected to go or compensation for crops that have been destroyed due to the works for the Cheddi Jagan Airport expansion.
"They issuing letters and scaring us," resident Royston Holder said last week.
Holder explained that the latest letter stated that they were being given 14 days to dismantle their homes and relocate. He said nobody is saying where they should relocate to.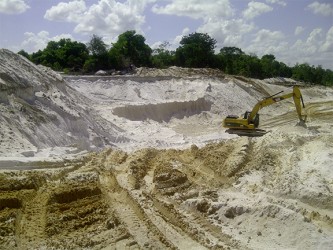 He received his letter three weeks ago.
He is among about 1,500 persons, many of them farmers, with homes in the area and who have been at an impasse with authorities on their relocation since the start of the project two years ago.
At a press conference in the area last week, APNU MP Joseph Harmon called for government to make a full disclosure to the people about the state of the expansion project, including whether it was adhering to international standards for the relocation of residents.
Since the start of preparatory works for the expansion project, residents have complained about farmlands being bulldozed without notice, while recently they say truckloads of sand are being removed every day from a section of the community.
Holder, a father of two who has been living and farming in the area for the last 16 years, said his entire farm was destroyed at the start of the project and with it his life. His uncle also lost.
"I lost hundreds of coconut trees… crops get destroyed for me. My uncle farm get destroyed; his eddoes, ground food, everything," the upset man told reporters.
"They did all bearing 'cause my uncle was there doing farming for about 20 years. He have seven children and right now he pass out because with the way how the project going on it stress he out and he get heart attack and he dead," the man said.
He and many others have lost lots of crops and vegetables. "Nobody ain't telling we nothing. Nobody ain't telling us that they gon compensate us," he added.
Asked if he approached anyone with respect to what was happening to the farmlands, Holder said that residents did subsequently meet with authorities. He said that at the meetings all that they were being told is that they would find a place for them. "We saying that these people ain't real. Everything is just fake. They just telling us thing. They ain't mean it," he stressed.
Following the destruction of his farm, Holder started another farm in another section of the community, from where sand is now being taken. He said that while he is getting some income from the planting of cash crops and ground provisions, he is still suffering from his losses in 2012.
"It is hard to start over back fresh because is years [the trees were planted]," he said.
Asked if he would relocate once he is convinced that they will be adequately compensated, Holder told the media that it has to be a collective decision. "They got to talk to the whole community 'cause if anything is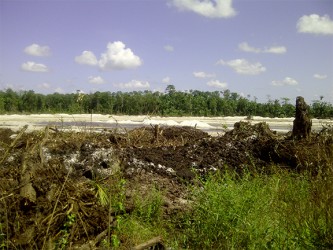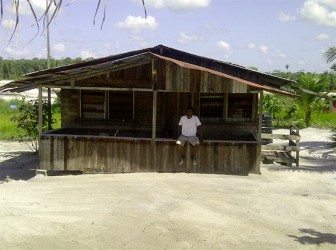 to happen they gotta move the whole community… once everybody agree is duh," he said.
At a meeting last year, Public Works Minister Robeson Benn was reported as telling Timehri North residents that government would aid in their relocation but would not compensate them.
There had been a series of meetings to finalise a relocation plan using information collected.
The Government Information Agency (GINA) had reported that the Ministry of Public Works was collaborating with the Housing and Human Services and Social Security ministries, and the Guyana Lands and Surveys Commission to fast track the relocation process. It added that a fair amount of work had gone into the development of a planned community in Yarrowkabra, where space will be available for schools, a health centre and playground.
Benn was reported by GINA as acknowledging the pains and anxieties of the relocation and said government wanted to mitigate the problems as much as possible. Towards this end, Benn told the residents that while the government would not be able to compensate the residents for relocating—since equity cannot be placed on a house that would have been built without a legal title—it would explore ways to assist them, including the purchasing of a bus to provide transportation and assisting with cement mixers.
"Our effort here is to advance the process whereby the land required for the airport expansion and the establishment of safe areas for airport operations of an international standard are sequestered… that we get those lands and we put them to proper utilisation," Benn was quoted as saying.
The Ministry of Public Works subsequently said offers of assistance were made to farmers to expedite the application process for them to access land but its efforts had been unsuccessful. "The Ministry has been engaging farmers for several years…. In fact, assistance was offered to expedite the application process for lands so that farmers would be able to maintain their livelihood on alternative locations. But despite these efforts many of the farmers continue to cultivate on airport lands – although they are aware these lands are crucial for the extension of the runway," it revealed.
Around the Web