Six-year-old Amrita Ramdin jumps over the river wall and trails behind her grandmother through the muddy dam, searching for her older sibling. She was dodging the muddy water seeping through the rickety boards lining the dam when she saw several children from the squatting area circling a young man, telling him what they wanted for Christmas.
See, not many people visit Plastic City during Christmas-time, asking children what they wanted for the holidays; matter-of-fact, not many people know about the small squatting area, hidden behind the Vreed-en-Hoop stelling.
These children live among the mangroves, near the river, in make-shift, box-like zinc houses. Their only protection are rickety rotten wood doors hanging from the hinges and rusty zinc sheets on their roof to bar the rain. There is no water, no electricity, and no telephones lines.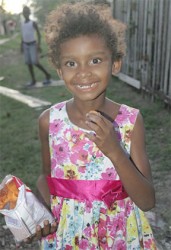 With schools closed, many of the children remain at home while their parents go out to scramble a few dollars to buy bread, and on good days some eggs. Most of the women search for "two-day" domestic jobs while their husbands venture into the interior for months to find work. The rest of the men—well mostly the young men—can be seen sitting along the dam.
Nevertheless these are the children whose Christmas lists are small and do not include Play stations, Xboxes and doll houses—well maybe a toy car or a doll, they are children.
Amrita moved closer to the other children and listened as they recited their Christmas lists with religious fervour. The man takes photos of them. She approaches him and smiles. "I want a school bag," she said and when he did not pay her attention, she repeated: "I want a school bag for Christmas. I don't have any".
When Stabroek News found out, little Amrita lives with her five siblings, mother and grandmother in a 10×10 shaky old wooden house. Her mother works hard to put food on the table and clothe them, but it is never enough; there are days when there are no rations in the house to cook and days when Amrita could not go to school because they could not afford to send her.
Saskia Gail is another child in Plastic City whose parents could not afford to send her to school regularly. When she was asked what she wanted for Christmas, the small girl replied that she would love a pair of shoes. She was wearing none.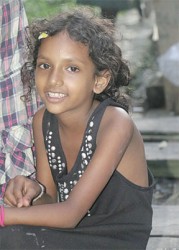 Jamiah Boyce, 11, said even though she wanted a doll house, her mother takes care of her and her other siblings, and so she would prefer to get her mother some clothes and shoes because she "deserve it".
Eight-year-old Samuel Boker said his dream is to fly planes when he gets older but for now he wants a bicycle to ride to school. He said his old one got broken and was stacked away.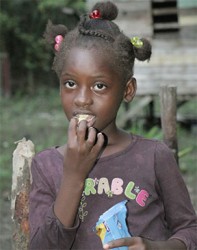 As Stabroek News trudged further along the landing leading out to the river, Varshanie Ramdas, 8, was sitting on a board with her younger brother and sister. When asked what her Christmas wish would be, she happily related that she would love to have a dolly house because she never had one. She said she does not even have a doll to play with and her only recreation would be running around on the muddy dam, and through the sewage strewn mangroves with her sister.
Other children were seen walking bare-foot through along the jetty on the river bank; these were the ones who asked for shoes and slippers in addition to toy cars and dolls.
Gladys Ramnarine, 87, said she will celebrate her 88 birthday on Christmas Day. The elderly woman survives by begging on the streets during the day. Every day she would go out to
scrape a few dollars to buy food for her granddaughter and grandson. She has been taking care of them for over a year, since their mother abandoned them.
She said she had gotten too old to clean houses and wash clothes for a living and so begging was her only option. Besides she has to gather enough money to send her grandson to school. "Things is hard…all I want is for them children to get some clothes and things to eat on Christmas," she said. "Me? I fine."
Now Plastic City is not the only poverty-stricken area on the West Bank of Demerara. The next stop was Skull City, a small community hidden away behind Patentia Village. It was once a squatting area but it became regularized a few years ago.
The houses are the same as those in Plastic City: rickety old zinc shacks with no electricity and telephone. Residents said their electricity was taken away a few months after it was installed. And even though they have been regularized, they are still branded as "squatters" and "hogs".
Shelly Bradford, 28, lives with her husband and four children in an all-in-one house. She has another child on the way and she says Christmas is a "far thing from her mind". She related that her three daughters had made their request for toys, and her son, the youngest, wanted a toy truck, but it seemed like she would have to forget about the toys, since school was right around the corner.
She said: "sometimes I feel bad because they say mommy I want this bicycle or that dolly for Christmas and I know I can't get it for them. I would say later".
Bradford stated that she wanted to get a bed for the girls for Christmas since they were getting older but then she found out that she was pregnant again. All four of Bradford's children sleep on one mattress.
"We are poor people, we can only afford to eat. Look my husband sells fruits at the market and sometimes the money is not enough to feed all of us," she said, adding that even though people would say she was having too many children, she was proud to have them.
"I live for my children and they will grow one day and `mine' me," she stated.
Around the Web