The Gillian Thompson Collection in the National Library was yesterday boosted with a donation of 16 computer tablets with some 500 books loaded on each one.
Chief Executive Officer of Southern Systems Karl Moore handed over the 16 computer tablets to the Young Adult Section of the library during a simple ceremony. That section of the library was recently renamed 'the Gillian Thompson Collection' in memory of the late Chief Librarian, who died on Christmas Eve last year following an accident.
Moore, who worked for nine years with Fox News, before launching his own Information Technology (IT) Company, told the gathering, which included Deputy Chief Librarian Nadine Moore, his company is contracted to amplify education and the gift is a gesture from the Fox News Digital Education Department.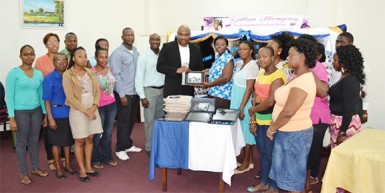 According to the donor, the laptops are not only for use at the main branch of the National Library, but will be distributed to the other branches, including the Festival City location which he identified as one of the contributory factors toward his development, having spent many hours studying there when he was younger.
Moore said four out of the sixteen tablets will be donated to that branch.
Nadine Moore received the tablets on behalf of the institution and expressed sincere gratitude to the CEO and his company, while also taking the opportunity to extend Christmas greetings to him and his family.
Around the Web