Sixty-six students graduated two Sundays ago from the University of Guyana's Institute of Distance and Continuing Education Berbice Centre, receiving certificates after completing various courses.
For the academic year 2012-2013, the tertiary institution registered approximately 156 students: 106 of whom (9 males and 97 females) successfully completed their courses, while 50 persons opted to drop out for various reasons.
The 34rd graduation exercise was held at the Guyana Teachers' Union Hall in New Amsterdam. The 106 students successfully completed courses in Industrial Relations and Management, Supervisory Management, Business Management, Marketing, Introduction to Social Work 1 & 2, Care of the Elderly, Basic Computer Applications, Advanced Computer Applications, Language and Communication and Pre-University English.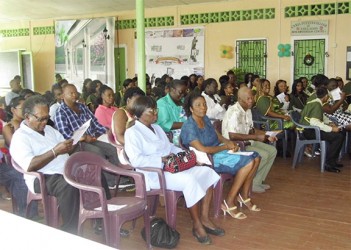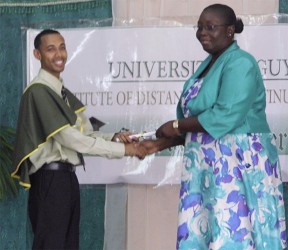 Janice John-Alexander, who gave the resident tutor's report, highlighted some of the challenges faced over the past year and the tremendous effort it took the entire IDCE staff to accomplish set goals despite the challenges. One of the main challenges faced was "the constant power outages which forced on many occasion, the premature closure of evening classes". Thus, the institution is hoping to acquire a stand-by generator for the new academic school year.
Journalist and lecturer Jannelle Williams in delivering the feature address urged the graduands to make plans and set achievable goals that are flexible. "Life doesn't usually follow the plans you lay out for yourself. As you graduate and take on new challenges, chances are you won't be working for $300,000 a month". She said rather, "those of you who are not yet employed, you might not get the first or second or third job you interview for" and may never achieve exactly what they aspire to, but that they should not be discouraged because they would have already taken the initial steps needed to build a more promising future. "Every class you've taken, every assignment you have completed, every essay you have written and every certificate you've earned, they have all been preparing you to adapt to change and challenges". She further encouraged them to "find your passion and never stop learning" and to "be self-aware, respect others and live by codes".
This year, principal of the School of Nursing New Amsterdam Centre, Oslene Hickens was tasked with delivering the charge. Hickens told the graduates "learning is a lifelong process and every day of our lives we learn something new". And as such, "when learning has taken place, there ought to be a change in behaviour". Moreover she stated that the graduates are now empowered with the requisite skills and knowledge in whatever course they pursued and thus it is now important for them to be "committed and dedicated to what you do". In this regard, she implored them to "be responsible and respectful".
Industrial Relations and Management (IRM) student, Keshri Jailall who earned a distinction in the course was named the valedictorian. He remembered his first day of class and being told that the IRM programme was the hardest to pass and decided to accept the challenge. "They weren't lying: having to study at nights, complete assignments then work during the day was hard work". He noted however the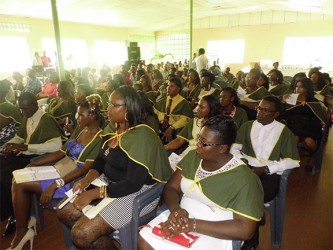 reimbursement received by way of his certificate was well worth the sacrifices.
Brief remarks were also made by the director of IDCE, Winifred Kippins.
Among those who received awards for their outstanding performances were Keisha Rose, Seliza Blair, Shonneka Bakker, Winston Lyte, Wayne Richards, Molandra Simon, Shabina Bakker, Candace Garrett, Judy Mohan, Monette Drakes, Chantell Chesney and Deneisha David.
Trophies were also presented to Jeanette Crandon and Charles Baker – the longest and still serving female and male tutors at IDCE's Berbice Centre.
Around the Web