Police are reviewing video footage which captured bandits robbing a Vryheid's Lust, East Coast Demerara car dealer of $2 million and other valuables on Tuesday afternoon, according to 'C' Division Commander Christopher Griffith.
Griffith also advised businesspersons not to carry large amounts of cash and in the event it is imperative, a security detail should be used.
On Tuesday last, at 1.30 pm two bandits armed with a gun entered the premises of car dealer Tony Narine and his wife and demanded a bag which contained $2,027,000 which they had earlier withdrawn from a city bank.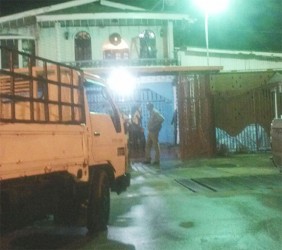 The traumatized businessman had related that the men stripped him off his cellular phone, licensed firearm, driver's licence and other valuables as well.
When Stabroek News revisited the scene yesterday, a relative of Narine said the car dealer, on realizing that the bandits had driven their getaway car down a dead end, armed himself with another of his licensed firearms and pursued them. However, both bandits and their accomplice outran him. Moreover, relatives said, the two customers on the premises at the time were also searched and robbed of a cellular phone and $100,000.
During a telephone interview, Griffith said the police are currently reviewing video footage of the incident while investigations continue.
Upon enquiry from this newspaper, Griffith confirmed Narine's belief that he was followed from the time he left the bank, until the bandit held him and his wife at gunpoint and robbed them.
When asked whether there might be a link between Tuesday's attack and last week's attack at the Lahago Supermarket at Montrose, ECD, which incidentally is a stone's throw away, Griffith said he did not believe so.
The commander nevertheless advised businesspersons to use electronic means of transacting their business, or hire security details in cases where liquid cash is needed. He further advised anyone conducting business with large amounts of cash to observe their surroundings.
Photo saved in pictures file.
Around the Web