An elderly Corentyne woman burned to death yesterday afternoon after a fire of unknown origin razed her Manchester Village house.
Dead is Norma Munroe, 76, called 'Aunty Norma,' who shared the house with her caregiver, Alana Yarrick.
Neighbours told the media that it was around 4.30 pm that they saw fire emanating from the upper flat of the woman's home and sounded an alarm. When they approached the house they heard Munroe crying for help, but residents were unable to enter the premises as the house was well grilled.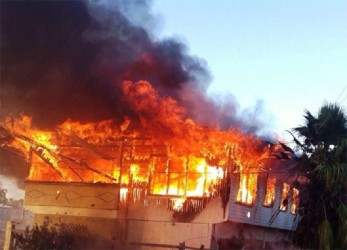 One man told reporters that he and others broke the door to the bottom flat and tried to gain access to the top flat, but were prevented by an iron grille and the "fire was powerful; we had to withdraw."
Meanwhile, when the firefighters arrived on the scene, they hurried to put out the fire to prevent it from spreading to neighbouring homes. Residents also assisted the firefighters.
Yarrick said she had left the woman and gone to a nearby internet café to make a phone call to her father who resides abroad. According to her, the door to the upper flat was left open, but the elderly woman might have closed it after she left.
She said the last conversation they had was when Munroe told her that she wanted to attend the Christmas morning church service. She said the woman was looking forward to Christmas.
Munroe's charred remains were found approximately an hour and half after firefighters put out the blazed and began combing through the rubble.
Munroe had no children of her own but was described as 'mother to many.' Her husband passed away a few years ago and most of her relatives reside abroad.
The fire service is investigating.
Around the Web