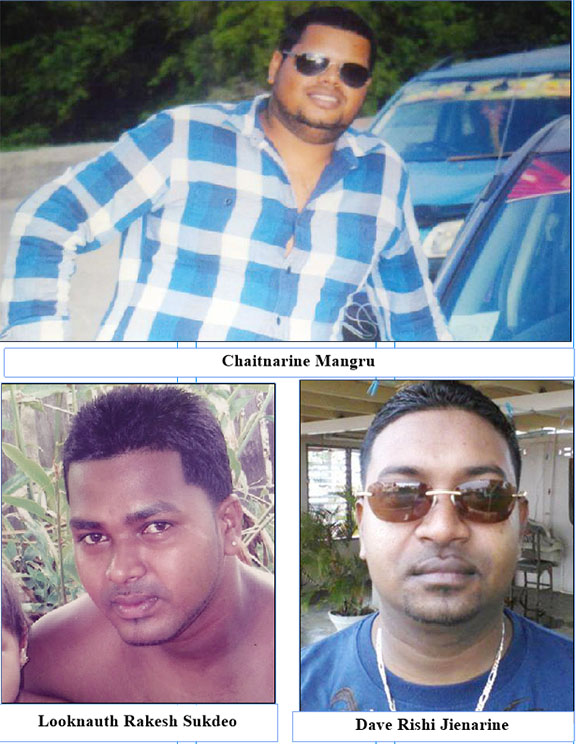 For West Coast Berbice (WCB) families this Christmas has now become a season of mourning for their loved ones who died on Wednesday as a result of two separate accidents.
Dave Rishi Jienarine called 'Pash', 38, a goldsmith and pawn shop owner of Lot 15 Plantation Hope, Bath Housing Scheme and Looknauth Rakesh Sukdeo, 33, known as 'Cerex' also a goldsmith who worked with Jienarine, and of Lot 181 Section 'D' Bush Lot died as a result of an accident on the WCB Public Road at Number Six Village. Chaitnarine Mangru, 27, called 'Suren', of Lot 194 Section 'D' Bush Lot, succumbed after he came into contact with live electrical wires at the scene of the accident.
Meanwhile, 16-year-old Yonette Branche was killed in a separate accident on the Public Road at Number 29 Village.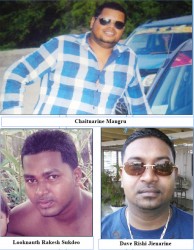 Shock and sorrow were the emotions prevailing on the WCB yesterday as news of the tragedies spread.
Many were overwhelmed by the death of Mangru, who lost his life in the act of being a hero. Mangru, a truck driver in the interior, was electrocuted as he sought to rescue Sukdeo, a relative. The car Sukdeo was in had turned turtle and hit an electricity post causing the wires to burst.
According to Parsram Ramkissoon, a cousin of Mangru, said they were all travelling from Jienarine's workshop at Rosignol. He explained that he and Mangru were in another vehicle some 100 yards in front of Jienarine's when he heard a loud noise. He said when he looked around he didn't see Jienarine's vehicle, and instructed Mangru to reverse.
They then came upon Jienarine hanging on the utility pole that had been broken in three. He said Sukdeo was in the overturned car still wearing his seat belt and appeared to be unconscious. The car was in the trench.
Ramkissoon said he was about to go to Sukdeo's aid but Mangru told him to stay back and he would go. "He said let me don't go, because of my weight I would not be able to go in the trench. So he walked and went into the trench," he stated. A few minutes passed and he realized that he had not heard anything from Mangru and on checking was stunned to find him lying in the trench motionless. Distraught, he said, he called Mangru's family and told them of the incident.
Ramkissoon said it was only after Guyana Power and Light technicians cut off the wires from the utility pole that they were able to get to the accident victims. He said both men, along with Jienarine were rushed to the Fort Wellington Hospital, where they were pronounced dead on arrival.
At Jienarine's residence, his relatives were puzzled over the incident.
His sister, Neesa Sooknanan, 22, said it was sometime after 9 pm that they were contacted by a family friend, who informed them that her brother had been involved in an accident and they should go at the hospital. As they were on their way to the hospital they received another telephone call which informed them to go to the mortuary. Jienarine sustained several injuries across his head.
Over at Sukdeo's home, family members were being comforted by neighbours and family.
His reputed wife, Amanda Benjamin 27, told Stabroek News that at approximately 9.30 pm she received a phone call that her husband had been injured in an accident.
The woman said she rushed to the hospital along with other family members and was greeted with the tragic news.
Benjamin said she had last spoken to her husband around 7.30 pm when he informed her that he was at the barber and would be home when he was finished.
The grieving wife said she was later contacted by Jienarine's wife who asked if she had heard from her husband. She related that she gave the woman his phone number so she could contact him. However, after a lengthy period with no contact from him, she said, she called his phone but got no answer.
According to Benjamin, when she saw her husband he had several injuries across his face and head.
Meanwhile, Stabroek News gathered from family members that Sukdeo had lost his wife seven years ago after she was electrocuted. Mangru, some years back, lost two of his brothers and Jienarine lost his brother in an accident at Mahaicony.
Around the Web