Shontel Callendar, who was severely burnt in the September 22 La Parfait Harmonie fire, succumbed to her injuries at the Georgetown Public Hospital's (GPH) Intensive Care Unit on Tuesday.
Callendar had been hospitalized since the night of the incident and underwent two of three scheduled corrective surgeries. At the time of her death, she was listed as being in critical condition and had been transferred from the Burn Care Unit to the ICU.
According to Callendar's mother, Amanda Daniels, the teenager was transferred to the ICU on Monday, after doctors examined her and discovered that her blood count was low. Daniels said that the blood count issue was discovered in preparation for a surgery to correct damage to Callendar's back. The distraught mother further stated that she had gone to visit Callendar on the day she died. "When I reach 6 am and was watching she [Callendar]" Daniels said, a nurse on duty asked her to step outside the room. "Then she [the nurse] come outside and tell me that Shontel passed (away)", she added.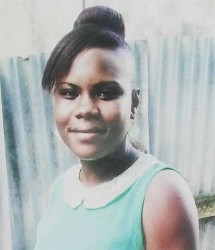 On September 22, about 1am, neighbours had heard what sounded like fighting, followed by screams coming from the house. Soon afterwards, they [neighbours] saw the house engulfed in flames and persons running from the building.
Killed in the fire was Jason Munroe, who was knocked unconscious during a fight with intruders. He had been in the house with his girlfriend and Callendar's sister Zulina Callendar, 20, as well as Zulina's three-year-old daughter Princess Bobb, who were injured. Both Zulina and Princess are said to be doing well.
Daniels said Shontel, who attended the Ascension Secondary School would be missed for her willingness. "She would also plait and screw my hair", the mother added. She also mentioned that Callendar was good at styling hair and cooking.
On September 27, a Charlestown, Georgetown man, Clifton Joseph was remanded to prison after he appeared at the Wales Magistrate's Court charged with the murder of Munroe.
Joseph, a minibus conductor, could face charges resulting from Callendar's death. A second suspect who was held after the fire was not charged.
Around the Web