A Coldingen, East Coast Demerara woman was blessed with her first child, Emmanuel Aaron early Christmas morning.
Shellon Aaron, 26, gave birth to a baby boy during the early morning hours of Christmas Day. Aaron and her baby were discharged from the Balwant Singh Hospital at midday yesterday. The baby was delivered at around 00:30 am and he weighed 3.1 kilograms. Aaron who was very joyful, told Stabroek News that she is very happy and thankful.
"It was my first experience, yes it was kind of challenging but all praise to God I came out safe," said Aaron. She continued that she is very thankful to her family, especially her mother, aunt and most of all God. "Also special thanks to the Balwant Singh Hospital for all the attention and care," Aaron said.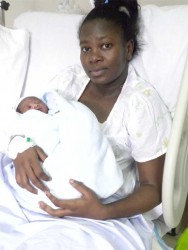 Meanwhile, after 17 years, an Ituni woman related that there was a difference in giving birth to her third child at Christmas since it was not expected because she was given a January due date.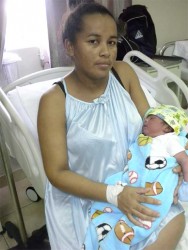 Stephan Piggot, 34, gave birth to a baby boy also at the Balwant Singh Hospital on Christmas day. The baby, Krishmar Lewis James was born at 4:35pm, just an hour after his mother was admitted to the hospital. He weighed 4.1 kilos and is Piggot's third child. "I am very happy because this wasn't (expected) so early at all, and on Christmas Day too, I couldn't ask for a better gift," the woman said.
She praised God since all went well and both she and her new born baby are doing fine. Piggot has two daughters, and the boy came 17 years after her last child.