The festive season came to an abrupt and sad end for the Raghbeer family of Reliance Abandon, East Canje, with the sudden and untimely death of a family member.
The body of 14-year-old Teyana Raghbeer was found yesterday around 13:15hrs floating in a trench aback Adelphi Village, East Canje. The body bore multiple stab wounds.
Raghbeer who resided at Lot 32 Reliance Abandon with her paternal grandparents, father, stepmother and brother, was last seen alive sometime around 23:00 hrs on Friday.
According to her distraught father, Jaiprakash Raghbeer (aka Jaio), the family spent Boxing Day at a gymkhana held in East Canje and returned home in the evening. He explained that the family became aware of the fact that Raghbeer had left the house when she failed to return to the living room after stating she was venturing downstairs to fetch drinks for her father and stepmother. "Minutes to eleven she bring food for me and she stepmother and she said she going downstairs for the drinks," he said.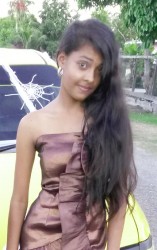 He recalled that after he had finished eating his dinner, he called out to her and got no response, so he sent her 10-year-old brother to determine her whereabouts. "Her brother come back to say she gone," he added.
It was at that point in time that a search began for the Canje Secondary School student and ended with her being found dead. "Me and my wife jump on the motorbike and start looking for she in all the places we think she could be," the father said.
Raghbeer's search took him as far as Edinburgh on the East Bank Berbice but that proved futile. On his way back, he was informed that a body was found in the backdam trench. "When we reach they didn't take her out yet. When they take her out I recognize her clothes and I tell the police that look like me daughter," he said.
The man said though he recognized his daughter's clothing, he did not accept she was dead until he saw a scar on the forehead of the body which confirmed his worst nightmare – his daughter had been killed and dumped in the trench like a piece of garbage. "She got a cut on her forehead and that was how I was able to positively identify her. The clothes tell me it was her but I wasn't certain until I saw the cut," he added.
Still in a state of shock, Raghbeer said he was unable to comprehend how and why his "pride and joy" was taken from him. He described his eldest child and only daughter as being very "bubbly and outgoing." He added that "everything was normal and good…good" and nothing pointed to his daughter wanting to up and leave the family house of her only volition in the middle of the night, though from all indications that is what happened. He noted however that she had acted somewhat strangely a few minutes prior to her disappearance. "She come and hold me and hug me up and thing, and she behave strange. But I didn't take it for anything because when we went gymkhana I buy two stag [beer] for her. So I thought it was that making her act so," he said.
Teyana Raghbeer had apparently opened the front door of the house, walked down the stairs, jumped the fence and vanished. When asked who she could have possibly been going to meet, Raghbeer stated that he had no idea but indicated he knows of persons who may have harmed her. He explained that he was involved in a physical altercation with a few men on Christmas night, and his daughter who was with him at the time, attempted to defend him by hitting one of his attackers with a bottle. "Six of them tried to double bank me and beat me up. We went at a back shop to buy credit for the phone and my wife ex-partner and a few of his family and friends was making trouble and Teyana pick up a bottle and threw it at them," he said.
Raghbeer recalled too that they had threatened her stating "by the time tomorrow you will see what happen to you". He however, did not take the threats seriously, and not wanting to make a big issue out of the incident, failed to report the scene to the police. This mistake he said will haunt him for the rest of his life, for his decision to not involve the police may have cost him his daughter. This information has been passed on to the police who are investigating.
Meanwhile, Raghbeer's grandfather, Harripersaud Raghbeer, also could not come to terms with the loss of his beloved granddaughter. According to the senior Raghbeer, he and his wife legally adopted Teyana and her brother and raised them from babies, so it is difficult for him to cope with her death. "We trying to stand up, but it hard. We mind them from baby on to this age. I never expect this. I was taking her to America," he said.