Fain Piggott was yesterday fined $70,000 when he appeared at the Georgetown Magistrate's Court and pleaded guilty to a malicious wounding charge.
Piggott, 33, of Craig, East Bank Demerara was charged with unlawfully and maliciously wounding Jewel Pestano on December 22.
Prosecutor Adduni Inniss stated that the defendant and virtual complainant are known to each other. About 08:30 hrs on the day in question, Pestano's mother and the defendant had a misunderstanding. She then observed that the defendant was armed with a cutlass and questioned him as to the reason for being armed. It is then alleged that he dealt Pestano a lash on her left leg with the cutlass.
The matter was reported.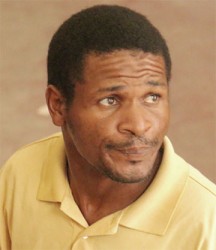 Pestano's mother in supporting her daughter who had a bandage around her left leg, stood beside her and told the court that she once shared a three-month relationship with the defendant but due to the constant abuse she suffered she was forced to end the union.
Near to tears, the mother said that Piggott had appeared at her home and was demanding a photograph of him that he said she was withholding. She denied knowledge of this photo and she said the man later chopped her daughter.
An unrepresented Piggott however disputed the woman's story and denied chopping Pestano.
He further accused Pestano of being the aggressor who was armed with the cutlass and pelted him with two drinking glasses.
Piggott added that he was chased by the virtual complainant and her mother with the cutlass and whilst running they also pelted him with a rolling pin which also missed him.
"I pick up the rolling pin wah them pelt me with and then them stop run me, de daughter pick me bicycle wah I left in de corner and throw it a drain and when a tell she mother, she tell her daughter to bring the bicycle in de yard", Piggott told the court. He added that his bicycle was taken up the veranda of the virtual complainant's house and thrown down the stairs.
When the presiding magistrate reminded Piggott that he pleaded guilty to wounding Pestano, he said that he pleaded guilty because it was as a result of his actions that the woman was injured but denied chopping her.
He said that it was the glass that connected to his back which he in return pelted back that shattered and caused the injury to her leg.
During the man's testimony Pestano's mother consistently shook her head and expressed shock at the defendant's story.
Magistrate Annette Singh, in her ruling took into consideration that the defendant pleaded guilty.
He was ordered to pay a fine of $70,000 and was given one month to present the sum in default of which he will be imprisoned for three months.
He along with his former paramour were also placed on a bond to keep the peace.
Around the Web