(Trinidad Guardian) The country's murder toll now stands at 12 for the year, while there have been 13 reported homicides, after two men were gunned down in Maloney on Saturday. Police said around 6.30 pm, Keith Russell Jr and Marcus Sterling were both at Silver Beak Lane, Maloney, playing a card game with some other men when they were ambushed by a masked gunman. The gunman opened fire on the group, hitting both men. As the crowd scampered to safety, the gunman escaped.
Russell, of apartment 12, Building 11, Maloney Gardens, was pronounced dead on arrival at the Arima Health Facility. He was a labourer attached to the Housing Development Corporation (HDC). Sterling, a PH driver, of Silver Beak Lane, Maloney, ran a short distance after being shot, but collapsed at the corner of Bitten Boulevard and Euphonia Avenue, a short distance from his home. Both men were 35 years old.

Meanwhile, Central police were last night awaiting an autopsy report to complete the file into the killing of Tobagonian Sheddrick Toppin, 38. Supt Johnny Abraham said yesterday that a woman involved in Toppin's stabbing death remained in police custody, adding the file would go to the Director of Public Prosecutions very soon.
Toppin, who lived at Gail Trace, Palmiste Village, Longdenville, was stabbed by a female relative around 1 am on Saturday. Toppin and the woman reportedly had an altercation after he came home. A struggle ensued and during the altercation Toppin was stabbed in the neck. He was taken to the Chaguanas Health Facility where he died while being treated.
Comments

CARACAS, (Reuters) – Venezuelan authorities yesterday arrested five members of a "terrorist cell" linked to self-proclaimed rogue Venezuelan helicopter pilot Oscar Perez, and killed several other militants during a shootout in a poor area outside Caracas.
BRUSSELS, (Reuters) – European Union officials have proposed removing eight jurisdictions from the blacklist of tax havens the bloc adopted in December, in what critics may see as a blow to its campaign against tax avoidance.
RIO DE JANEIRO (Reuters) – A Brazilian court yesterday ordered the world's largest iron ore miner Vale SA to repair environmental damages its operations caused in land belonging to a community of descendants of escaped slaves in northern Brazil.
(Trinidad Express) Three men were killed in Manzanilla, and Fyzabad and Arima on Saturday night.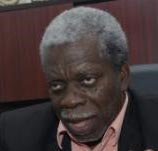 (Jamaica Gleaner) When president of the National Parent-Teacher Association of Jamaica Everton Hannam chose Fly Jamaica Airline to take him to Guyana for his annual end-of-year vacation, he could not guess the ordeal he would face.