(Trinidad Express) A 15-year-old mother of one has become the 40th murder victim for the year. Aleah Cain was shot in a drive-by in Belmont on Tuesday night, police said.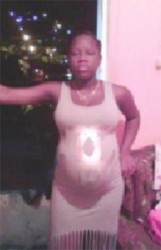 Cain's baby girl is one month old.
According to police, at around 10 p.m. Cain and the father of her child were walking along Belmont Circular Road, when a car slowed as it drove past them.
Someone pointed a gun through a car window and several shots were fired.
Cain, who was shot in the chest, died while undergoing surgery at the Port of Spain General Hospital. Her companion escaped injury, police said.
Cain is the first child to be killed this year, and the fifth female.
Sharon Bahadoor, 47, was stabbed to death along with her husband on January 1, in Princes Town. Amanda Persad, 22, was shot and killed by an estranged lover in Barataria on January 4. Radha Ramdeen was murdered along with her husband in Cedros on January 7.
Dian Paladee was beaten then shot dead by her estranged husband in St Augustine on January 9. And Abigail Persad, 32, was shot and killed outside the family home in Arima.
Around the Web