CARACAS,  (Reuters) – Followers of late socialist leader Hugo Chavez flooded the streets of Venezuela yesterday for the anniversary of his death, an emotional but welcome distraction for his successor from violent protests raging for the last month.
A year after Chavez succumbed to cancer, his self-proclaimed "son," President Nicolas Maduro, faces the biggest challenge to his rule from an explosion of anti-government demonstrations that have led to 18 deaths since February.
Though the protests do not appear likely to topple Maduro, neither do they seem to be going away. A hard core of students are determined to maintain street barricades and militant opposition leaders organize daily rallies around Venezuela.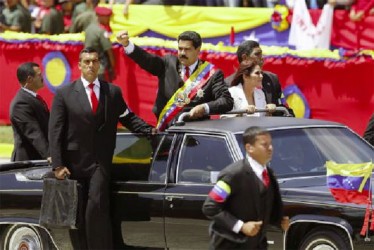 Yesterday's military parade and other events to honour "El Comandante" gave Maduro, 51, an opportunity to reclaim the streets and show that he too can mobilize his supporters.
"This anniversary is enormously sad. There's not a single day I don't remember Hugo," Cha-vez's cousin, Guillermo Frias, 60, said from Los Rastrojos village in rural Barinas state, where the pair used to play baseball as kids.
"He changed Venezuela forever, and we cannot go back. Maduro also is a poor man, like us. He's handling things fine. Perhaps he just needs a stronger hand," he said.
Tens of thousands of red-clad "Chavistas" gathered for rallies in Caracas and elsewhere in honor of Chavez, whose 14-year rule won him the adoration of many of Venezuela's poorest, while alienating the middle and upper classes. Cannon-shots marked the precise time of his death, 4:25 p.m.
Maduro used the occasion to announce the breaking of diplomatic and commercial ties with Pana-ma, whose conservative government he accused of joining the United States in "open conspiracy" against him.
"We're not going to let anyone get away with interfering with our fatherland, you despicable lackey, president of Panama," Maduro said in fiery language reminiscent of Chavez.
Panama's President Ricardo Martinelli said on Twitter he was surprised by the decision. "Panama only wants its brother nation to find peace and to strengthen its democracy," he said.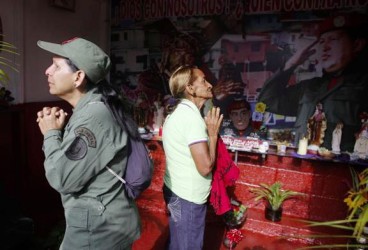 From before dawn, demonstrators used trash and old furniture to try to spoil the commemorations by blocking streets in Caracas and other cities nationwide.
Police fired teargas at stone-throwing demonstrators in one upscale district of the capital. In western San Cristobal city, opponents hung puppets of Maduro from traffic lights and blocked a border crossing with Colombia.
Maduro presided over a parade in Caracas before leading crowds up to the hilltop military museum where Chavez led a 1992 coup attempt that launched his political career. His remains have been laid to rest in a marble sarcophagus there.
"Hugo Chavez passed into history as the redeemer of the poor," the president said, comparing his mentor to both Jesus and South American independence hero Simon Bolivar.
Prominent leftist allies including Cuban President Raul Castro joined the lavish ceremonies.
Chavez's humble roots, anti-U.S. rhetoric, network of grassroots political organizations and lavish spending on slum projects made him a hero for many. Yet his tough line against opponents, sweeping nationalizations and rigid economics such as price and currency controls angered many others.
One year after his death, though, debate in Venezuela is no longer about Chavez but his would-be heir.
Maduro, a former bus driver and union activist, lacks Chavez's charisma and grip on the ruling Socialist Party, and he has been unable to fix Venezuela's many problems, ranging from soaring prices to deteriorating services and runaway crime.
Yet "Chavistas" largely remain loyal to their hero's dying wish that they support Maduro. So far, the protests have not spread far from a middle-class core and the military seems loyal, making a Ukraine-style change of government improbable.
Oil shipments from South America's biggest exporter have not been affected, though the unrest has hit small businesses.
Comments
CARACAS (Reuters) – Venezuela's opposition-controlled congress yesterday rejected the self-proclaimed lawmaking authority of a new legislative body elected last month at the behest of President Nicolas Maduro, widening the political divide in the crisis-hit country.
APUI, Brazil (Reuters) – The small town of Apui sits at the new frontline of Brazil's fight against advancing deforestation in the Amazon rainforest, where vast forest fires belch jet black smoke visible for miles and loggers denude the jungle.

MEXICO CITY,  (Reuters) – Mexico's foreign minister is in Havana hoping to persuade Cuba, one of Venezuela's top allies, to help resolve the tense political situation in the beleaguered South American nation, according to a senior Mexican official briefed about the trip.
CARACAS, (Reuters) – Venezuela's new legislative superbody yesterday gave itself the power to pass laws, superseding the opposition-led congress and fueling criticism by government adversaries that socialist President Nicolas Maduro is consolidating a dictatorship.

(Trinidad Express) The treatment of persons at the Immigration Detention Centre is heartbreaking and inhumane says Khafra Kambon, chairman of the Emancipation Support Group.