(Trinidad Guardian) Stricken by the fear of being innocently prosecuted for his wife's kidnapping, Rennie Coolman paid TT$75,000 to a conwoman who promised to assist by bribing senior prosecutors into forgoing investigating him. Coolman made the admission on Monday while being grilled for over three hours by defence attorney Mario Merritt, who is representing two of the dozen men accused of murdering his wife Vindra Naipaul-Coolman.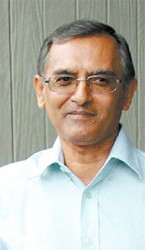 While under cross examination in the Hall of Justice, Port-of-Spain, Coolman admitted he was contacted by the woman, who pretended to be attached to the office of the Director of Public Prosecution (DPP), several months after his wife was kidnapped from their Lange Park, Chaguanas home on December 19, 2006.
Although the alleged fraudster's name was mentioned several times during Monday's hearing, trial Judge Malcolm Holdip requested that her name be withheld in media reports to avoid her being prejudiced in her pending court case in the matter. Coolman said the woman first went to his workplace, where she obtained his cellphone number which she used to contact him. Merritt was able to get Coolman to admit he paid the woman TT$50,000 to bribe the Director of Public Prosecutions (DPP), in addition to TT$25,000 to bribe Senior Counsel Israel Khan, who is prosecuting the case.
"My emotions made me do what I did," Coolman said. He said in April 2007 he met the woman at Abercromby Street, Port-of-Spain, near to the Hall of Justice, to make the payment, but denied being aware that Khan's office was located nearby.
Merritt then attempted to ask Coolman if he knew his actions were illegal, but was stopped by an objection from prosecutors before Coolman could respond.
After they addressed the objections in chamber and returned to court, Merritt began asking Coolman about his reasoning for paying the bribes.
Merritt: You did nothing wrong and you still parted with your TT$75,000?
Coolman: Yes.
Merritt: What made you give up your hard earned money… your wife's money?
Coolman: It was said to me that I would be charged innocently without evidence.
Merritt: You were told that you would be charged innocently without evidence?
Coolman: That's right.
Merritt: You know that the police charge people innocently without evidence? Coolman: Yes.
Although Coolman's extra-judicial attempt at evading the police investigation was seemingly successful, the campus manager at the University of T&T (UTT) claimed he only realised that he was being fleeced when the woman contacted him a second time and demanded a further payment.
Around the Web