ST JAMES, Jamaica (Jamaica Observer) — Former Jamaica Prime Minister Bruce Golding has warned that the Caribbean region will continue to experience "recession -type conditions" for a number of years, despite the official end of the global recession four years ago.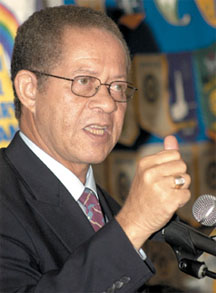 He argued that the global recession coupled with what he described as the reluctant slow uncertain recovery, has forced governments across the Caribbean region, in particular, to undergo painful restructuring of their economies.
"The impact of the global recession plus the slow reluctant uncertain recovery that is taking place is one thing, but the recession has brought Caribbean governments in particular, face to face with the necessity, indeed the inevitability of harsh structural adjustments, so the recession that hit us in the latter part of 2007 and 2008 is like the earthquake and what we are experiencing now are the aftershocks. We still have not steadied off," he explained.
The former prime minister was speaking on Sunday night at the 28th Annual Sales Congress of the Caribbean Association of Insurance and Financial Advisors (CARIAFA) at the Hilton Rose Hall Hotel and Spa in St James.
He told the delegates that as a result of the slow pace of the economic recovery, several Carib-bean Islands, including Jamaica have had to enter into agreements with the International Monetary Fund (IMF).
"In Grenada they are about to enter a new agreement with the IMF and therefore they are likely to face serious structural issues that are likely to require strong painful policy response," the former prime minister argued.
During last night's ceremony, Patricia Marguerite Gilding of Barbados was inducted in CARAIFA's Hall of Fame.
More than 200 delegates from across the Caribbean are attending the congress, which ends on Wednesday.
Around the Web