(Trinidad Express) Former acting general manager at the Airports Authority of Trinidad and Tobago (AATT) Dayanand Birju has been charged with two counts of fraud.
This was confirmed yesterday by Deputy Commissioner of Police Glenn Hackett who said Birju was in police custody.
Birju, sources say, was held at his San Fernando home on Friday at around 9.15 p.m. and taken to Fraud Squad headquarters at Richmond Street, Port of Spain.
He is expected to appear before a Port of Spain magistrate tomorrow charged with obtaining money by false pretences and uttering a false document.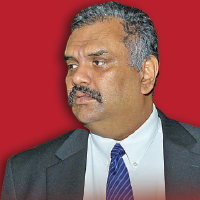 Last September, the Sunday Express through a series of exclusive stories claimed that Birju had submitted a bogus degree certificate which stated he had a BSc in computer science from the University of Massachusetts, Boston, in the United States.
The certificate stated he was awarded the degree in computer science on May 28, 1988.
This formed part of his curriculum vitae submitted to the AATT to obtain the managerial position he held.
Sources said the former AATT board led by Trevor Benjamin and line minister Stephen Cadiz did not lodge an official police report.
Several letters were written to the board by its legal department last September alleging offences had been committed and the police ought to be contacted, sources said.
Sources told the Sunday Express that Hackett initiated an investigation and mandated detectives attached to the Fraud Squad to probe the matter.
Hackett supervised the investigation which was led by Snr Supt Edwards.
The detectives throughout their investigation visited AATT senior personnel and requested certain documentation.
However, on Friday afternoon, the detectives received written correspondence from the university in the United States.
During its investigation, the Sunday Express on September 24 last year contacted David Cesario, registrar of the University of Massachusetts, Boston, asking him a series of questions.
He was also e-mailed a copy of the certificate tendered to the AATT.
Cesario claimed after inspecting the certificate, "I have reviewed it and it is not authentic."
Cesario said prior to the Sunday Express request the AATT also requested information as to whether the "certificate" was authentic.
A reply has since been sent to the AATT.
Cesario had confirmed that Birju attended the university "from fall 1983 through fall 1987", but did not graduate.
Sunday Express investigations also claimed the document tendered by Birju contained discrepancies.
For instance, it listed "Peter McFarlene" as the university president.
But Registry officials at the university told the Sunday Express they knew no one by that name who served as president of the university.
"From 1978 to 1990, the university listed Mr David C Knapp as president of the University of Massachusetts."
Around the Web