(Jamaica Observer) Senior Superintendent of Police James Forbes, the cop who in the 1990s became the poster boy of what a clean police force should be, was yesterday convicted on a charge of attempting to pervert the course of justice.
The guilty verdict, handed down by Corporate Area Magistrate Stephanie Jackson-Haisley, makes Forbes the most senior member of the Jamaica Constabulary Force (JCF) to be convicted on corruption charges.
He's to be sentenced in the Corporate Area Resident Magistrate's Court next week Thursday. His bail was extended until then.
Following the conviction, Queen's Counsel Jacqueline Samuels-Brown gave notice that she would be appealing the decision, but Jackson-Haisley told her to wait until after sentencing before she gives notice.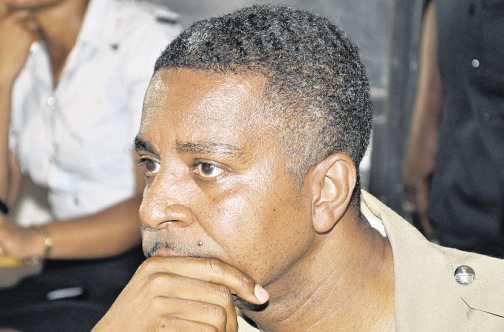 Should Forbes lose his appeal it would bring an end to the 30-year career of a man who was slated for promotion to the post of assistant commissioner just before the arrest.
Yesterday, Forbes showed no emotion at the verdict but earlier he was seen rubbing his fingers relentlessly, and constantly swallowed hard when it became obvious what the decision would be.
In handing down the verdict, the magistrate said she found that Forbes was aware of the circumstances surrounding businessman Bruce Bicknell, in that Bicknell had been arrested and was before the court on allegations that he attempted to bribe a police officer during a traffic stop, when he (Forbes) called the meeting that resulted in a charge of attempting to pervert the course of justice being brought against him.
"The meeting was designed to affect the outcome of the matter against [Mr Bicknell]," Jackson-Haisley told a court packed with stunned police officers. "His act was intended to pervert the course of justice."
The magistrate rejected Forbes' defence and said she found him to be "changing his defence as the trial progressed". She said she also found him to be "insincere and disingenuous" in his testimony.
On the other hand, she said the she accepted the prosecution witnesses — sergeants Jubert Llewellyn and Delon Lewis — as being truthful, even though there were some discrepancies and inconsistencies in their testimony. However, the magistrate said that the inconsistencies and discrepancies did not go to the root of the prosecution's case.
Colleagues of the convicted cop filed out of court with long faces, some appearing on the verge of tears. Outside, media personnel tried getting reaction from Forbes' colleagues, some of whom were willing to speak, but they were cut off by a curt Steve Brown, the deputy superintendent in charge of the police's Corporate Communication Unit.
"The police has no comment. There will be no comment," Brown said and turned his back on a reporter who wanted to speak with him.
"Forbes is a good man… and his integrity will stand and he will still be the face of the JCF," Deputy Superintendent of Police Robblin Wederburn said despite Brown prompting him not to talk.
After being processed, Forbes was quickly bundled into a black sports utility vehicle and whisked away.
Daryl Vaz, who, along with Forbes and Bicknell, was charged as a result of the alleged bribery attempt, said it was a "very sad day" for Forbes and his family.
"It's a big disappointment and a dark, dark day for Mr Forbes," Vaz said. "Forbes is an outstanding policeman and I hope the judicial process works out for him. I'm very disappointed and in pain."
Vaz's case will be called up in the Corporate Area Resident Magistrate's Court next week.
Bicknell, Forbes' co-accused who was freed earlier this year on a no-case submission at the end of the Crown's case, was also present for the verdict but hid in the police station before slipping away to avoid being questioned by the throng of media personnel following the conviction.
The charge stems from a meeting Forbes facilitated at his Oxford Road office in St Andrew with Bicknell, Llewellyn and Lewis, who had ticketed Bicknell for speeding in April 2012. A part of Forbes' defence was that he wasn't aware that Bicknell was charged and that the meeting was to mediate the matter.
But yesterday, Jackson-Haisley said that mediation does not obtain in corruption matters. Additionally, she said that mediation does not take place in "someone's office" behind closed doors.
Around the Web