(Trinidad Express) Mother of two Sylvia Candice Douglas-Mohammed was stabbed a total of 17 times about her head, back, chest and arms by her attacker.
This is according to the results of an autopsy performed by forensic pathologist Dr Valery Alexandrov on her body yesterday at the Forensic Science Centre, St James.
The 34-year-old was killed at her Rattan Trace, Hydraulic Park, Kelly Village home some time on Sunday, Mother's Day.
According to police reports, Douglas-Mohammed's husband and two children last saw her alive at about 6.30 a.m. on Sunday, when the trio left her at home to attend a function.
At about 12.45 p.m., her brother, a prison officer, arrived at the home. He called out to her several times and when she did not reply, he made his way inside the house.
He was horrified to discover her motionless body lying in a pool of blood on the ground of  her bathroom. The prison officer made his way outside and raised an alarm.
He called on the assistance of one of his sister's neighbours, PC Raghoobar, who after viewing the body himself, notified his seniors at the Central Division and Homicide Bureau of Investigations.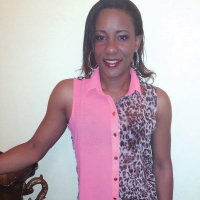 A party of police officers, led by Superintendent Ford, Inspector Williams and acting Sgt Figaro of Cunupia Police Station, and Homicide detectives, led by Sgt Maharaj, visited the scene.
Police said they have not uncovered a motive for the killing.
Douglas-Mohammed was employed as a customer sales representative at Trinidad and Tobago Unit Trust Corporation in Port of Spain.
Speaking to the media yesterday at the Forensic Centre, Douglas-Mohammed's relatives said she was a mother of two boys, aged 12 and eight, and the oldest sat the Secondary Entrance Assessment (SEA) examination last week.
"She was a beautiful person, stubborn sometimes, but always loving and caring. She came from a very large family, five sisters and five brothers. Words can't explain how we are feeling right now. We are saddened that is the way she had to go," relatives said.
The funeral service is tentatively set for tomorrow.
A 42-year-old male relative has since been detained for questioning.
Sgt Maharaj of the Homicide Division is continuing investigations.
Douglas-Mohammed is one of 15 women to be killed for the year to date.
Her murder follows last Thursday's killing of Tarodale mother Sherlene Charles, who was gunned down in her home, allegedly by a close male relative, who remains on the run.
Police are also investigating the circumstances surrounding the death of 20-year-old Alex Farrell, who was killed yesterday evening in Diego Martin.
While up to presstime full details remained unavailable, the Express was reliably informed that at about 3.30 p.m., Farrell was sitting in a garage along Imbert Circular, off Waterwheel Road, Diego Martin, with his 13-year-old sister and brother when a man walked into the garage and asked the trio a series of questions.
After receiving some answers, the man pulled out a firearm and shot at Farrell several times before fleeing the scene. Farrell was hit multiple times about his body and died on the spot.
His sister was grazed on her shin by a bullet.
A party of police officers, including Inspector Thomas, Inspector Dan and Sgt Forde-Jack, visited the scene. The 13-year-old girl was rushed to St James Medical Complex and up to late yesterday she was still said to be at the hospital.
Investigations are continuing.
Farrell's death takes the murder toll for the year to date to 164.
Comments

(Jamaica Gleaner) Halt the "ill-conceived" agreement that guarantees Chinese investors US$1 million in the Government Oval project, local construction players are demanding of the Government in an intensification of their lobby against the deal.

CARACAS/BOGOTA, (Reuters) – Relations between Caracas and Washington are at their lowest point ever, Venezuela's President Nicolas Maduro said yesterday in a speech at the presidential palace for international media that was televised to the nation.
RIO DE JANEIRO,  (Reuters) – Brazilian prosecutors yesterday charged Aldemir Bendine, the former chief executive of state-controlled oil firm Petroleo Brasileiro SA, with corruption, alleging he used his position to take bribes from construction firm Odebrecht.

(Trinidad Express) Prime Minister Dr. Keith Rowley admitted yesterday that something went drastically wrong and was crooked in the procurement of the passenger ferry the Ocean Flower 2.
SANTIAGO, (Reuters) – A Chilean court on Monday ruled that a law legalizing abortion in certain cases is constitutional, a win for President Michelle Bachelet's centre-left coalition and for groups that have campaigned for years against the country's strict ban.