(Jamaica Gleaner) A University of the West Indies (UWI) professor has found himself in a prickly spot after testifying in Belize that gay men are at a higher risk of contracting the HIV virus, and that it was in the best interest of that country to retain its anti-same-sex relationship laws.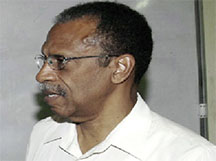 Professor Brendan Bain, director of the university's Caribbean HIV/AIDS Regional Training Programme (CHART), told the Belize Supreme Court that countries which have repealed their buggery laws have seen an increase in HIV/AIDS rate among the population of men who have sex with men (MSM).
He argued that a change in the law could have a deleterious effect on Belize's economy.
However, his testimony has not gone done well with some 35 advocacy groups across the region that have demanded that he be sacked from some positions at the UWI.
In a letter to Bain, the UWI's vice-chancellor, E. Nigel Harris, indicated that key stakeholder groups in the fight against HIV have voiced their displeasure with his testimony and continued leadership of CHART, and as such an advisory committee has been convened to look into his suitability to retain his current position.
Second letter to Harris
The move comes after advocacy groups wrote a second letter to Harris demanding that Bain be removed "from any leadership position in the CHART programme and all positions of representation at the university on issues of HIV and AIDS".
In the correspondence to the vice-chancellor and copied to CARICOM's secretary general, Ambassador Irwin LaRoque, on April 24, the groups lamented that the UWI was dragging its feet in removing Bain from directing the CHART programme and other HIV/AIDS-related outreach efforts.
On May 6, Harris informed Bain that a meeting was scheduled for last Monday to consider his "leadership of an institutional body that has a responsibility for the conduct of a regional endeavour affecting diverse members of our communities and funded by funds allocated by a USA-based agency committed to combating HIV/AIDS".
Adversely affected
Harris said the groups had also expressed that they had been adversely affected by Bain's testimony "in support of the retention of a law in Belize whose existence continues to discriminate against persons who practise same sex".
The vice-chancellor made it clear that the committee would in no way be examining Bain's freedom as an academic to express certain views and conduct scientific research in his own capacity.
Harris stated that Bain was being given the option to present a written or oral testimony to the committee.
He also said the committee would not be considering the facts of the case before the court, but would only be focusing on whether Bain is suitable to continue being the director of CHART.
It is unclear if last Monday's meeting had taken place as scheduled and efforts to contact Bain were unsuccessful, as he was said to be off the island.
Comments

(Jamaica Observer) Caribbean Community (Caricom) states are being urged to loosen their chokehold on the concept of sovereignty and move now to fully embrace all tenets of the Treaty of Chaguaramas, specifically the Caribbean Single, Market and Economy (CSME).

(Trinidad Guardian) Former Manchester United striker Dwight Yorke was served legal documents before his Seas the Moment fete in Tobago on Saturday, as current Chutney Soca Monarch Neval Chatelal has sued him in an effort to recover $250,000 which was lent to Yorke last year.

LONDON,  (Reuters) – Oxfam's country director in Haiti admitted to using prostitutes at his residence during a relief mission before resigning in 2011, according to an internal investigation into allegations of sexual misconduct released by the charity yesterday.
(Trinidad Guardian) Networks of the ISIS cell in T&T which Prime Minister Dr Keith Rowley referred to in Parliament are spread from Aranjuez, Charlieville and Enterprise to Rio Claro among other locations, a national security official has said.

(Trinidad Express) Government Minister Maxie Cuffie's medical treatment and recovery has cost the Trinidad and Tobago taxpayers $2.49 million.